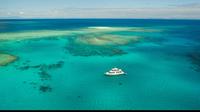 130 €
Great Barrier Reef Dive and Snorkel Cruise from Mission Beach
After departing from Wongaling Beach (in Mission Beach) via a water taxi, you'll visit the Outer Great Barrier Reef to enjoy and experience this amazing place in its natural state away from the crowds.  Travel aboard the 'Reef Goddess' and head to the reef with your small group of friends, family and PADI professional diving guide, creating a fun-filled and educational experience that will stay with you forever. Receive a complimentary buffet lunch, snacks and drinks during your 8-hour cruise.
Enjoy your day on-board 'Reef Goddess' and cruise to the Outer Great Barrier Reef!
8.30am & 9am - You will begin your adventure to the Great Barrier Reef from Wongaling Beach (Mission Beach) where you will board the Island Spirit.  Wear your swimmers. You have to walk through water, which reaches your knees, to board!
A quick 10-minute transfer will land you onto beautiful Dunk Island where you will board 'MV Reef Goddess'. 'Island Spirit' is a fully enclosed custom built passenger transfer vessel designed specifically for a beach landing.
9.30am - After introductions and safety briefing from your captain, depart from Brammo Bay at Dunk Island and head off to the east, sitting on 18 knots reaching your first reef location in under 1 to 1/2 hours.
11am - In the water at your first Outer Great Barrier Reef location (Locations are determined on the day to suit weather conditions). You will have an hour to explore untouched reefs with the crew/guide on-hand to assist with your gear.  The free snorkel briefing will cover what to do and what not to do to ensure your safety and enjoyment at the reef.
12pm - Depart for a 1/2 hour cruise to the second snorkel location and lunch preparation.
12.30pm - Arrive at the second location where the ships captain will cook your BBQ lunch served alongside fresh prawns, salads and fresh tropical fruit.  After your well-earned lunch, onto the second snorkel and dive explorations.  Enjoy another hour of learning, seeing and experiencing one of the world's natural wonders.
3pm - After more snorkelling or diving, your crew/guide will 'up anchor' and head for home back to Dunk Island.
4.30pm - Take a transfer on-board the 'Island Spirit' for a quick trip to mainland Mission Beach.