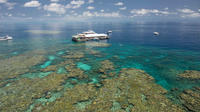 146 €
Great Barrier Reef Day Cruise from Cairns Including Snorkeling and Marine Biologist Presentation
On this 8-hour tour from Cairns, cruise out to an activity platform on the outer Great Barrier Reef for a day of exploring this natural wonder in different ways. This location is selected for its water clarity, coral quality, and diversity of marine life, which you can see while snorkeling or taking a tour by glass-bottom boat or semi-submersible vessel. Learn about the wildlife from on-board marine biologists, and choose to participate in more activities, if you wish, like scuba diving or a helicopter ride (additional expense). All ages and swimming abilities are welcome. Buffet lunch is included.
Depart Cairns in the morning on a fast catamaran, which provides a smooth ride and shorter travel time than many other tour boats, leaving you more of the day to enjoy on the outer Great Barrier Reef. During the 1.5-hour ride, enjoy the space, comfort, and service of the crew.

When you arrive at Marine World, the all-weather activities platform, begin your exploration of the UNESCO-listed reef, a complex and diverse ecosystem home to more than 1,500 species of fish, 400 types of coral, 200 types of birds, and 20 types of reptiles. You can snorkel in the sheltered coral lagoon with provided equipment, go scuba diving with a certified dive (up to three dive sites) or introductory session (no experience necessary), or join the on-board marine biologist for a guided snorkeling safari (diving and guided snorkeling at your own expense). You can also enjoy a identification session with the marine biologist, who points out resident fish like "Wally," the Maori wrasse.

If you're not a confident swimmer, stay dry and view the marine life from the semi-submersible reef viewer, glass-bottom boat, or underwater observatory. Optional activities (own expense) include a helmet dive for a scuba-style experience up to 3 meters deep where you won't get your hair wet, or a scenic helicopter flight for an aerial adventure over the reef. Or, simply relax and enjoy the tropical weather on the sundeck. A massage therapist is available if you feel like treating yourself (own expense).

After five hours on the platform, hop back on the catamaran for the return ride to Cairns, where your day tour ends.