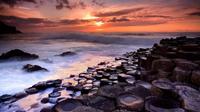 29 €
Giant's Causeway Guided Day Tour from Belfast Including Admission to the Visitor Centre
In this day tour of Belfast and the Giant's Causeway, you will admire the splendid landscape of County Antrim, including the famous Dark Hedges, made familiar by the fantasy drama 'Game of Thrones'. If you are feeling brave, take a walk across the Carrick-a-Rede rope bridge and enjoy the view. Discover and explore the Giant's Causeway's hexagonal columns, built by the Irish giant Fionn and his Scottish rival Angus.
Depart Belfast at 9:45am on this full-day trip to the Giant's Causeway. Your qualified Irish guide will meet you at the departure location where you will head for incredible Giant's Causeway with a drive through the splendid landscape of County Antrim. Located in the north of Ireland, the Antrim coast is considered an area of outstanding natural beauty.

You will first visit the Carrick-a-Rede rope bridge, where there will be a chance to feel the wind in your hair as you walk across the rope bridge to Carrick-a-Rede Island. Built by salmon fisherman, this 30-meter deep and 20-meter wide chasm is linked only by the rope-bridge.

Those brave enough to cross over to the wonderful island will be rewarded with breathtaking views of Rathlin and the Scottish islands. If you are brave enough to cross, you might like to make an optional charitable donation to the National Trust, the registered UK charity maintaining the bridge.

From here, you will visit the famous Dark Hedges. Planted in the 18th century by the Stuart family to wow their neighbors and guests when arriving at their home. You may recognize the Dark Hedges as King's Road from the hit TV series Game of Thrones. This is a once in a life-time photo-stop and a real opportunity to be a part of the TV series itself.

Often described as the 8th wonder of the world by many, the Giant's Causeway is an area of stunning natural beauty. Once you have visited the Causeway, it is easy to see why. Consisting of around 40,000 hexagonal basalt columns, which were formed around 60 millions years ago by a violent volcano eruption. Legend has it that the causeway was constructed buy the Celtic warrior hero Finn McCool!

A modern visitor centre is now open at the Causeway and will tell you the fascinating story of the rock formations in many different languages thought audio and visual guides. You will enjoy spending two hours at the Giant's Causeway, before returning to Belfast in the evening.