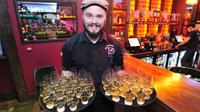 60 €
Galway Food and Drink Walking Tour
This 3-hour Irish walking tour is Galway's friendliest food and drink tour. You will be able to join local guides who will show you all of the most popular and hidden Irish restaurants and traditional Irish pubs in Galway City. Enjoy a variety of traditional and modern dishes, Irish beers, Irish coffees and local produce. Your maximum group size will be 18 people total, two tour times to choose from, and you (and your group) will need to be a minimum age of 18 to participate. This is a great way to catch up with old friends and make some new friends along the way! Come and meet the locals.
Meet your local guide in the center of Galway City at the Hotel Meyrick, near Eyre Square. You will visit 3 uniquely Irish venues such as An Pucan, Garvey's, and the famous Spanish Arch. You will be able to taste a selection of local Irish food and drinks in each venue which is all included in the tour. You will get a real flavor of Irish cuisine from home made Irish stew, local cheeses, and seafood while washing them down with Guinness and Galway Bay Brews. You wont leave this tour hungry! Don't drink beer? Don't worry, the local operator can accommodate most requests. Please make sure to contact them before your tour.

This tour is not just about history, you will also learn what is happening in the city, where to go, and the best places to see. Explore a "Hidden side of Galway", from ancient Irish culture to the modern present day.

You will feel relaxed as the groups will be small in size, from 4 people (minimum) to 18 (maximum). Enough people to ensure you will have a fun few hours, but not too big that you won't have made some new friends along the way!

You will be guided by friendly tour guides who know Galway like the back of their hand, and can let you all in on some hidden secrets of the city along with recommendations off the beaten track. All of the restaurants were carefully chosen, as they sum up the fun and social aspect of what it is to be Irish. Some places you may know quite well or have heard of, but there are also a few hidden gems you may not have come across before.

In relation to walking distance, these tours are done at a leisurely pace, but comfortable footwear is highly recommended. High heels are possible, but maybe bring a pair of flat shoes in your handbag just in case.

Each tour is planned to be a unique and special experience. At the end, you will finish the tour in the Galway city center; your guides will help you with transportation or directions to wherever you want to go next.