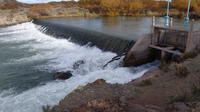 106 €
Full Day Tour to Florentino Ameghino Dam from Puerto Madryn
The tour takes along the Route 25, which links the coast with the Chubut mountains. All these miles will take you through the plain landscapes to undulating plateaus until arriving at the Florentino Ameghino. Enjoy the spectacle of nature and be amazed by the emerald green lake which is enclosed by walls, 200 meters high. This serves as a dam and it is much appreciated since it produces electricity for the area. Most of all, you'll be enjoying the magnificent beauty of the nature and landscapes in this area which only exist in a few places in the world.
The tour starts with the pick up from Puerto Madryn hotels from 8:00am. Then you´ll travel some kilometers to Florentino Ameghino Dam, a wonderful engineering masterpiece that provides electricity to the whole region. This is a recommended place due to its magic. You will take Route 3, cross Trelew and discover petrified trees. These are ancient trees that had turned into rock.
Las Chapas is the next destination, where a detour finally will led you to the longed-for Florentino Ameghino Dam. You will enjoy an amazing colorful landscape: transparent rivers, green willows, among other things. The rocky walls boast an incredible reddish tone and the Chubut River runs between their huge heights for several kilometers. That is the reason why this site was chosen to construct the dam and give shape to an artificial lake that covers 7,000 hectares. It was named Florentino Ameghino to honor the famous naturalist and discoverer. The reservoir is 255 meters long and was designed by the engineer Antonio Pronsato back in 1943. It was not inaugurated until 1963.
A camping site area invites visitors to spend the night and enjoy some of the attractions offered by the dam: fishing for large specimens of silver-side and trout. The trails around the area are usually crossed by the most autochthonous wildlife seen in Patagonia today: guanacos with their offspring, choiques and Patagonian hares.
At noon, you´ll have a relaxed talk, hearing more about the famous dam wall. After crossing several tunnels, you will reach the top of the concrete wall. You can take the best photographs from the highest point of the reservoir and the village to treasure a memory of your pleasant ride along its streets.
This is an unforgettable excursion in a place that should not be missed while visiting Puerto Madryn.
The tour finishes with the drop off at Puerto Madryn hotels.