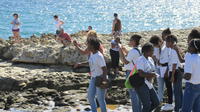 120 €
Full-Day Outback Antigua Agriculture-Ecological Tour
Embark on a full day tour of Antigua. This a small group tour to ensure that each participant gets the best experience, while discovering Antigua from a agricultural and ecological point of view.
The tour will take you on a interactive trip to some of Antigua's historical and agriculture locations, where you will be sight-seeing Antigua and discovering many of Antigua's national flora and fauna. Meet at the pick up spot at the Heritage Quay Dock in St John's.

Your journey begins with a 20-minute walking tour of St John's, where you will see historical land marks such as the Museum of Antigua and Barbuda and St John's Cathedral.. The walking tour ends at the St John's Vegetable Market where you will meet Miss Jackie, who is a local vendor. You will learn about the history of the Market while collecting some fruits and vegetables. This will be a great opportunity to take photograph of the scenery and landscape.

After about 15 minutes interacting with Miss Jackie, the tour continues via bus to Sea View Farm where Clay pots are made from the soil found in the village. A stop is made at Sea View Farm at Evergreen Organic Fish Farm`for a 20 minute tour of the farm and also to collect some fresh fish to take on the journey.

Then travel to Potworks Dam through Freeman Village highlighting the farms and wildlife seen along the way. The tour continues to the Donkey Sanctuary where over 160 donkeys are rescued from roaming onto the vegetable farms where they cause damage to the crops. From the Donkey Sanctuary you head to Liberta Village, which is one of the largest village in Antigua. It was created and named after the emancipation of the slaves in 1834. Fig-tree Drive is the most forested area in Antigua and is just a few minutes drive away from Liberta. Passing through Fig-tree Drive many local fruit trees can be seen and some might be bearing fruits for you to sample.

Finally, you head towards Ffryes beach at the southern side of the island, where your tour comes to an end. You can relax on the beautiful white sand beach, take a swim in crystal clear Caribbean sea water or play fun games and sports while lunch is served.
You will receive a complimentary gift package, consisting of a free video/picture diary. Restroom and Bathroom facilities available on tour! Remember to bring along a beach towel and sunscreen lotion.

Your will be dropped off at your hotel or preferred destination at approximately 3pm.