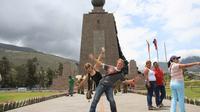 59 €
Full-Day Middle of the World Monument Tour from Quito
Don't miss the opportunity to take part of this exclusive middle of the world tour from Quito!
Depart at 8:00am in front of your hotel with your friendly guide and private transportation.

The first stop will be the outside of the headquarters of UNASUR, the "Union of South American Nations", a modern building with extraordinary architectural attributes, with meeting places for conferences and international summits. Entering the seat is optional.

Continuing the tour, enter the tourist city of Mitad del Mundo, an architecturally colonial city of the time, the whole journey accompanied by joy and colorful by craft shops and local people. The key point is the central square where the church is based.

We complete this tour at Latitude '0' where we will enter the Monument to the Middle of the World, built after the French Geodesic Mission in the eighteenth century showing the calculation and line crossing of the hemisphere. Take a picture and have the memory of one of the places in the world you must know.

After this we will enter the Ethnographic Museum located inside the monument, where you can learn about the 9 stories that reflect multiculturalism and diversity of indigenous nationalities of our wonderful Ecuador. We end this part of the tour at the viewpoint of the monument which reflects a breathtaking and unmissable view.

After this tour we will have lunch based on the tour option chosen you have selected. Visitors who booked without lunch can choose between a wide variety of restaurants located outside the tourist town, always accompanied by our guide.

Then we head to the dazzling Pululahua volcano, dormant for thousands of years with its crater now quiet and perennially dampened by fog. This is a magnetic place to explore thousands of plant species and observe a big variety of birds, mammals and insects. In its viewpoint you can shop multiple representative crafts of the area.

We will the approach the Inti Nan museum and afterwards we will return back to the hotel in the afternoon!