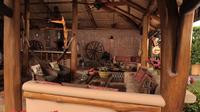 165 €
Full Day Hacienda La Danesa All Inclusive Experience
Spend the day at Hacienda La Danesa, a traditional dairy and cacao farm with a history dating back more than 145 years, during this 9-hour guided tour from Guayaquil. Family-owned and managed by the third generation Olsen family, the farm offers a unique selection of tailor-made activities for guests, including horseback riding trails, hands-on artisan chocolate making and other hacienda-related programs. The menu is mostly traditional Ecuadorian cuisine mixed with a pinch of fresh international influence to bring exceptionally transcendent flavors to the table. La Danesa is one of the few venues in the world that serve the award winning Ecuadorian Chardonnay and other local outstanding microbrewery beers. A three-course lunch and hotel pickup and drop-off are included.
A certified professional driver will pick you up at 8am from your desired location. You will arrive at Hacienda La Danesa at around 9am. The host will greet you and give you a warm welcome to the farm and tell you about La Danesa's history. You will have free time to check out the gardens, have a drink and take photographs of this beautiful historic property. A teak table will be set-up in the gardens with La Danesa's magnificent Champagne breakfast, prepared and delivered by a chef

After, riders can enjoy a true re-connection with nature gliding through different trails around forests, paddocks and rivers guided by a local Montubio cowboy. Visitors have the opportunity to choose the duration of their experience and even joined with other programs and delicious meals. Safety guidance, helmet and half chaps are provided before start.

Guests will visit the cacao plantation where they will have the chance to taste raw cacao at different ripening stages and a hands-on experience of making artisan chocolate.

La Danesa offers a truly unique gastronomic experience inspired in a 'farm-to-table' ethos. It grows and produces most of the ingredients at the farm, while buying the rest from the neighboring communities. For your lunch the chef will offer you three options for the main course for you to choose that morning. A vegan/vegetarian option is available.

After, have coffee and tea in the garden. La Danesa produces around 1,200 liters of milk every day and had won for 20 years in a row the best dairy cattle in Ecuador. One of the cows will come to the garden and share some of her milk. If you want a Café ai Lait you will have to take the milk straight to the cow's utter.

At this time you may pick what to do. There are three rivers inside the property that offer the perfect place for fun and relaxing water activities. Guests can float down on tubes with a local guide and embrace the beauty of the surrounding peaceful environment watching fish, birds, iguanas and if you are lucky enough maybe even deer, snakes and sloths. Guests can take the fat-tire bicycles and ride around the farm to explore the beautiful area at anytime during their stay. A map and cycling route signs will guide visitors through different trails.

At approximately 4:00pm the staff at La Danesa will say goodbye and you will head back to Guayaquil and arrive at around 5:00pm.