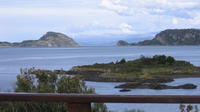 179 €
L'activité n'est pas disponible, essayez une autre recherche !
Full-Day End of the World Tour: Tierra del Fuego National Park, Beagle Channel and Ushuaia
A full day excursion where we invite you to discover the wonders that the End of the World has to offer! This is perfect for passengers spending few days in Ushuaia. You will see the End of the Panamaricana Road in the Tierra del Fuego National Park, have a lovelly lunch in a local restaurant and explore the beauties of the Beagle Channel. It´s an all in one excursion!
We start from Ushuaia and then begin to discover the forest on the mountains slopes that were used by the prisoners to take wood. That was how the city was built.
We visit the station of the Train of the End of the World, next to the Rio Pipo while the guide tells us the story about it. After visiting the station, we continue to the entrance of Tierra del Fuego National Park and begin to explore it (those passengers who have taken the train will be joining the group at final station already inside the park). We visit every corner of park with our specialist guide that will assure us to have the closest experience with the landscape, the nature environment and all the history involved in this natural reserve that has such cultural and territorial importance.
Our adventure will be made by interposing bus drives and small walking trails until we get to the end of National Road N°3 and Panamericana Road in Lapataia Bay.
After this amazing experience, we reach Ushuaia´s center where we will enjoy some local cuisine and have some time to exchange our impressions with the rest of the group while we rest and we get ready for the second half of the day.
After lunch, we head to the touristic pier to board the boat that will take us on the Beagle Channel where we will be visiting the Bird Island, the Sea Lion Island, the Bridges Island and the memorable lighthouse "Les Eclaireurs". Weather permitting we will disembark on Bridges Island to walk on a small trail, enjoying the peculiar flora and have a magnificent panoramic view of the city and the channel.
Once back in Ushuaia the tour will come to the end, just in time for passengers to make their own way to the Maritime and Prison Museum to enjoy the guided tour and finally understand the story behind the construction of Ushuaia as Argentinian city.