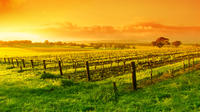 66 €
Full-Day Barossa Valley Tour from Adelaide
Enjoy the best sights, tastes, and experiences of the Barossa Valley on this 9-hour tour. Take a journey that goes beyond just the wine and vineyards and explore another side of the valley, home to some fantastic food producers, wonderful lookouts, great historical buildings, and lovely gardens to name a few. Stop at the Whispering Wall, the Barossa Chateau, Grant Burge Winery, and the Barossa Valley. Visit the Tanunda Kegal Bahn, Maggie Beers Farm Shop, and take a trip down the infamous Seppeltsfield Road, plus a stop at the family mausoleum, and views over the west of the valley.
Be collected in the morning from the heart of the city and head straight up into the foothills of Adelaide. On the way to the Barossa Valley you'll travel in comfort onboard a Mitsubishi Rosa with climate control and large windows. Stop for a chance to experience the magic of the 'Whispering Wall' as it carries your voice across the damn for over 140 meters. Then head to the Barossa Chateau for a tour of the Queens rose gardens and the grand porcelain collection of Hurmann Thumm. Here you will have the option to select a tasting of their exquisite wines, or instead try some scones and tea.

After, head to the Grant Burge winery, a sixth generation producer which sits on the foot of the Eden Valley hills, and provides sweeping views over the valley below. Afterward, head to the Barossa Valley Brewery for a delicious pub style lunch (at own expense) and a chance to see the brewery in action (wine also available). After lunch visit the Tanunda Kegal Bahn for an exclusive experience where you will take part in a sport that was the predecessor to today's 10-pin bowling, and has over 160 years of history in the region.

Moving on, the tour will head to the western part of the valley where we visit Maggie Beers farm shop for the chance to experience her delectable preserves and recipes and even have the chance to take part in a cooking demonstration that takes part in the old set from the TV series.

Finish of the day along the iconic Seppeltsfield Road where you'll take in the views atop the hill where the family mausoleum was built, and get the chance for a surprise photo shot.

The tour concludes with a comfortable ride back to the city via the northern expressway.