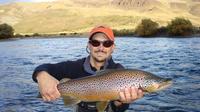 369 €
Fly Fishing Day Trip in Bariloche
The finest fly fishing guide service & expedition trips in Bariloche. You will find a unique Fly Fishing Bariloche adventures in the "wilds" of Patagonia.

Based in San Carlos de Bariloche, the heart of the biggest National Park... this area is considered to be a Mecca of fly fishing by anglers the world over. Bariloche fly fishing trip options range from daily fly fishing trip to full service all-inclusive lodging packages.

Our Bariloche Fishing Guides can customize your trip because we've been guiding fly fishers of all levels of experience in Patagonia for over a dozen years! Let our experience lead you to the best fly fishing in Argentina.

We have access to more water than any other outfitter in the area. The trips we offer are unique because we are associated with several of the best ranches, which provide access to some of the best water in the region.
Our most popular trips from Bariloche take us to Limay River, Manso river or Pichi Leufu river in the heart of the Nahuel Huapi National Park. These trips are an excellent way to experience Patagonia wilderness. The driving distance is about 45min.

The usual itinerary is that we pick-up our guests from their hotel round 8.30am, our boats are launched followed by intense fishing until noon. Pending on location, the brake during the midday may vary, but if the bite is hot we of course fish as hard as the guest requires. A full lunch, beverages and some excellent Argentine Malbec wines is done on shady spot along the shore. Our trips vary from 8 to10 hours of fishing time, including transportation. However if the bite is on, we will fish longer at our guests request, without an extra charge. We can handle individuals up to groups of 8. Our team is serious fishermen, taking no greater pleasure then to maximize the fishing experience of our guests!

The extraordinary fishing locations. Outfitters Patagonia is based in San Carlos de Bariloche which is located in the middle of the Nahuel Huapi National Park. We operate on perhaps one of the broadest selections of premier trout fisheries in the Patagonia Argentina! Wild rainbows, browns and brookies, all reside within the incredible river systems of National Parks and legendary rivers.

We can customize your trip according to your special requests or needs like fishing and casting, transportation, meals & beverages, etc.

Our trips includes:
• Transportation from hotel to fishing sites
• Boats when required
• One bilingual guide per 2 anglers
• Full lunch and beverages
• All necessary fishing gear
• Advance pre-trip information

Doesn't include:
• Fishing licenses
• Gratuities

After booking a trip we will send you a comprehensive information pack and a check list, to be sure you arrive with everything you will really need.