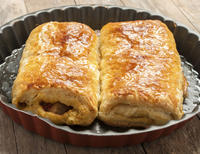 27 €
Eat Like a Local: Sofia Breakfast, Food and Sightseeing Walking Tour
Start your day like a local with a Bulgarian breakfast of 'banitsa' (savoury pastry) and 'ayran' (yoghurt drink), and discover Sofia's landmarks on this 3-hour walking tour. With an expert guide, stroll past Alexander Nevsky Cathedral, Sofia University and the National Parliament Building, and visit at least three food stops to sample tasty treats. Learn the origins of Bulgarian cuisine as you savor Sofia's much-loved 'baklava' (nut-stuffed filo pastries), traditional snacks and a glass of sweet 'boza' (wheat drink). A hearty appetite is compulsory on this small-group tour, limited to 12 people for a personalized experience.
Meet your food-loving guide in central Sofia and set out on your small-group walking tour.
Bursting with stately buildings, Sofia is great for exploring on foot, especially with food tastings added to the mix. While you walk, admire some of the city's famous sights, hear fascinating snippets about its past, and visit three or four food stops for some mouth-watering local specialties.
See the dome-topped Alexander Nevski Cathedral and meander past the 6th-century St Sofia Church, Sofia University, the National Parliament Building and a statue of Tsar Alexander II, who liberated Bulgaria from Ottoman rule in the late 1800s.
Having worked up an appetite, head to an eatery for a typical Bulgarian breakfast. Sink your teeth into a quiche-like banitsa, a pastry unique to the Balkans and often filled with meat, cheese, spinach or even nettles. Wash it down with refreshing ayran, the locals' favorite yoghurt drink.
Duly refreshed, continue into atmospheric old Sofia, viewing the historical architecture as you walk to Graf Ignatiev Street, home to a bustling food market. Peruse the stalls to buy any fresh fruits and vegetables you fancy, and try some baked nuts or other snacks for sale (own expense).
While hearing more about Sofia's culinary history, pass a buzzing open-air book market — the largest in Bulgaria and a popular draw for locals — before diving into one of Sofia's best-known pastry shops.
Savor some of the best baklava in town, and perhaps try some tolumbichki (deep-fried pastries) or other goodies. Pair them up with a glass of boza, a fermented wheat drink that's a local breakfast staple.
Your tour ends when you leave the shop, leaving you free to continue exploring independently or return home on your own.