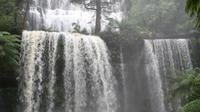 105 €
Derwent River Valley Small-Group Day Tour with Lunch
This excursion follows the River Derwent to Curringa Farm, an award winning, sheep and cropping farm, where you will be able to enjoy a fine lunch (minimum 10 customers required for this activity), featuring products from the farm. Then a visit to the nearby Mt. Field National Park rainforest, where one can experience the magnificence of the majestic Russell Falls. On the way back to New Norfolk, the excursion will call in at the Salmon Ponds and then on to one of the wildlife parks.
Depart Hobart and travel north up the Derwent River Valley to Curringa Farm, an award-winning 750-acre (304-hectare) sheep and cropping farm, situated near Hamilton in the Southern Midlands. Approximately 1 hour north of Hobart, this farm allows you to experience sheep shearing, working sheep dogs, forest walks, and river views. Much of the morning will be spent here, culminating in a  lunch, which will only be put on for a minimum of 10 customers. Alternatively, lunch will be provided at the local hotel.
After lunch, the meander will take you to Russell Falls, a picturesque cascading waterfall in the Mt. Field National Park. A 10-minute walk through the rain forest reveals a variety of beautiful vegetation, including dogwood, musk and myrtle, and towering swamp gums, the tallest flowering plant on earth. The visitor may even catch a glimpse of the local wildlife, such as a wallaby and the resident duck-billed platypus.
On the return to New Norfolk, make a stop at Salmon Ponds and Trout Hatchery where you can take a walk back in time amongst the historic buildings and trout hatchery, all set within the original parkland "leisure garden" of superb trees, hedges and lawns, surrounding large pond brimming with trout (rainbow, brown, brook and tiger trout) and salmon, with displays explaining the annual cycle of fish breeding activities. The Salmon Ponds is the oldest trout hatchery in the Southern Hemisphere, in operation since 1864.