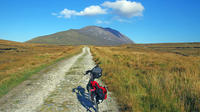 39 €
Cycling the Wild Atlantic Way - 1-Day Self Guided Tour from Clifden
Come and cycle in the pure fresh air of the highly scenic Connemara region. Set between the rugged peaks of the Twelve Bens and the rolling waves of the Atlantic Ocean, lies the town of Clifden, a unique cycle hub for County Galway.
Nearby attractions include Kylemore Abbey & Garden, Connemara National Park, Ocean's Alive Visitor Centre, the Connemara Smokehouse and Connemara Championship Golf Links. There are a number of wonderful cycle routes to choose from on this tour.
Pick up your bike, equipment and route options from 10h00 from the bike shop in the town of Clifden, County Galway. Clifden is the perfect base to explore this area-Connemara's coastal land and seascapes, its heritage, cute fishing villages and coves. During this trip you will plan your route individually. Choose the following routes:

1. Bog Road to Roundstone - You can enjoy a scenic ride from Clifden along this haunting road looking across towards the 12 Bens mountain range . On the ride back to Clifden you will pass Ballyconneely - take your time to admire the beautiful coasts of Connemara and make a stop at the Wild Atlantic Way signature point of Derrygimlagh - the landing site of the very first trans Atlantic flight, and first transatlantic radio transmission (2h15 - 40km)

2. Connemara Loop - Travel to Tullycross and then take the Connemara Loop to discover the beautiful Peninsula of Renvyle and the former castle of the pirate queen Grace O'Malley! (3h - 50km)

3. Omey Island & Beach - Another suggestion is to get on the road and ride along the Wild Atlantic Way to the charming fishing village of Cleggan (pop into Olivers for their fresh crab claws-Yum!). Pass by Claddaghduff and its beautiful Omey Beach on your way back and appreciate the beautiful coastal landscapes. (1h30 - 23km)

4, Sky Road - From Clifden, follow the Sky Road and gaze at the stunning view and its wide range of scenery. Make a stop at Clifden Castle to explore this charming ruin. (1h - 11km)

For lunch, we suggest you to make a stop at Roundstone, Cleggan or Clifden depending on your itinerary to taste some delicious seafood in one of the restaurants (price of lunch not included in the package).

Anytime before 18h00, drop off the bike and the equipment back at the bike shop in Clifden.