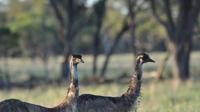 25 €
L'activité n'est pas disponible, essayez une autre recherche !
Cunnamulla Town and Industry Tour Including Afternoon Tea
Learn about the history of the town and industries in Cunnamulla with a passionate and knowledgeable guide. Enjoy this drive through the the quaint streets of Cunnamulla and become captivated by the colourful stories which paint the town. Tour includes pickup from hotels in Cunnamulla as well as afternoon tea.
Your adventure tour is about to commence so buckle up and get ready to discover the past and present on a fun town tour of Cunnamulla.
Get to know and understand the characters of the outback and become part of what is our home "Cunnamulla". You will come to know and love it as we do.

Passing through the huge natural sand dunes you will find out how these treasures developed. Keep an eye out for Australian native birds in Cunnamulla, you will be amazed at the number of species. As we embark on Allan Tannock Weir Aboriginal history tells how Cunnamulla got its name and we pass the old stock route where many a drover moved mobs with stock whips cracking. Share how forty years of flood research and a healthy respect of the river empowered Allan Tannock to help save Cunnamulla from the mighty Warrego River in the 2009 floods that destroyed Charleville and Nyngan.

Self driven Allan Tannock was a man of vision, a thirst for knowledge motivated his recordings of daily events and he passionately lobbied government in the pursuit of economic development of the Cunnamulla region. He served his country at war, was a true gentleman and will always be a legend in these parts. We are off to learn the story behind the Cunnamulla Fella and the CBD.

During smoko (afternoon tea) have a look through the photographic display of local photographer Stephanie Mills who is donned Australia's photographic storyteller before once again hitting the Cunnamulla heritage trail. We then follow the well worn line north to Hortonvale and reveal how a local grazing family transformed their properties and lives after the wool crash to include large scale irrigation development beyond the scope of your wildest imagination.

By now you have experienced and discovered more about what's happening in Cunnamulla than most locals. We hope we have inspired you to stay a few extra days to really explore our special part of Queensland's Outback.