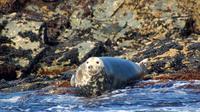 1 €
Connemara Marine Wildlife and Offshore Islands Private Sea Boat Cruise from Cleggan including Lunch
Come sailing on the Atlantic Ocean on this private sea boat cruise in the the western seas off the Connemara coast, in search of sightings of the wonderful marine wildlife of the area, which can includes whales, dolphins, porpoises, several seal colonies and the occasional family of sea otters. Perhaps even a glimpse of the mighty basking shark and the 500lb sunfish! Why not try a bit of fishing en-route as you travel to the small, beautiful and scenic island of Inishturk, which rises boldly from the wild North Atlantic in wall-like cliffs to the northwest and steep hills to the north. Here stand the ruins of the old signal tower, 722 feet above sea level. Those who wish can join the knowledgeable local guide for a 3-hour walk to the cliffs to do some amazing island bird watching. The number of species here will fascinate and compliment any bird watching enthusiast's wish list!
Arrive in the village of Cleggan at 10:15am to meet your skipper and local guide for the day on Cleggan pier. You will then leave Cleggan Harbour, sailing west down Cleggan Bay and passing Cleggan Farm to your right owned by the Twinings (of the tea fame) family and Rossadillisk the home to 16 local fishermen who perished in the 1927 Cleggan Disaster.

Cruise and fish en route to the island of Inishturk; the west side of Inishturk is a bird watcher's dream (April to end of July) as on the water you will encounter flocks of Shearwaters, Petrels, Guillemots and Puffin. Visiting the Twin Sister's Bay where there is a very large Puffin colony together with towering 500ft vertical cliffs. On the rock walls are also nesting Kittiwakes and Fulmars plus Razor Bills and Guillemots. Some additional sights to be seen include the vertical high cliffs and sea stacks, Castles on Clare and Inishbofin.

Land on Inishturk, for those who want join the skipper on a guided scenic walk to the cliffs and some bird watching. For those who don't wish to walk, enjoy exploring the island, beaches and enjoy a pub lunch close to the harbour.

At 6pm you will return to Cleggan pier where your tour will finish.