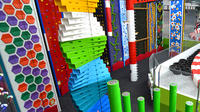 43 €
Combo Package
Try our NEW combo package
Purchase a Go Kart session, a Clip N Climb Adventure and you'll get a lazer tag challenge for free
Makes for a few hours of action packed adventure
Clip N Climb is a 270 square meter adventure climbing precinct which is in-set into a pit, 1.2m below the surface of the Grand Prix Circuit. The Clip n Climb comprises 16 uniquely themed challenges including the Stairway to Heaven, Skyscpare & amazing Twister Tower plus more
With 22 Adult, 12 Junior go karts there is plenty of fun to be had for the whole family. Our interchangeable track means that you should be prepared for anything, no use trying to master the turns of one specific track; cause just when you have, we are likely to change it.

Game Over Lazer Tag is a live action packed, post apocalyptic laser arena with the latest technology, lighting and sound. Players battle it out in a 300 square metre playing arena. 

Way too much fun 
Expect an exciting action packed few hours at Game Over
Take your time, pack a lunch, bring some friends, check your times  see who the winner of the day is 
With an opening time of 10am daily, this gives plenty of time to try all our attractions
No meals or Transfer are provided by Game Over
Transfers can be booked through Coastal flyer from surfers Paradise or you can book a local Uber
We are only 20-25 mins from Surfer Paradise


Karting Inclusions:
Helmet
Full Safety Briefing
Printed race card featuring your times and the times of your opponents in your race.
SAFETY RESTRICTIONS
All activities: Clothing: enclosed shoes must be worn. No sandals or thongs are permitted.
Karting:

7 years old and 120cm tall for the junior karts
13 years old and 150cm for the adult karts
DIRECTIONS:

Address: 88 Siganto Drive Helensvale QLD

Driving from the South of the Gold Coast and heading North on the M1 you take exit 60 towards Helensvale North, Turn right onto Entertainment Rd, Take the 1st right onto Helensvale Rd, Turn left onto Siganto Drive and we are Number 88.

Driving from Brisbane and heading South on the M1 you take exit 57-Tamborine-Oxenford Road for State Route 4/Hope Island Road,
merge onto Hope Island Rd/State Route 4 then at the lights take a
right hand turn onto Siganto Drive and we are Number 88.
All participants need to register at the registration kiosks when they arrive at Game Over.