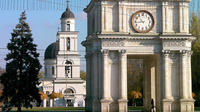 95 €
Chisinau City Tour and Cricova Winery with wine tasting
City tour by car and walking (if tourist accept walking).
Chisinau - the capital of Moldova. The name Chisinau comes from Romanian word "chisla noua" which refers to a spring on the corner of Pushkin and Albisoara streets around which the original city was built.

Tour includes: Parks of the city, city center, the micro-districts: Telecenter, Botanika, Sculeanka.
Walking: Cathedral Park, Valea Morilor, Memorial of Military Glory, and Railway Station.

After the Chisinau City tour we will go to the Cricova winery! 
In 1952, was founded one of the most fascinating wonders of the world - Cricova cellars. They are situated under of the small Cricova town and those cellars create a truly real underground city.
Chisinau city tour!
Chisinau is situated in the centre of the republic on the river Bic. The city lies on seven hills and occupies the territory of around 120 sq. km. In Chisinau there are 23 lakes which are mostly situated in the parks.
The capital of Moldova is considered to be one of the greenest cities in Europe. There are many parks in the city and the trees grow on almost every street. In the parks live about 14 species of birds and 14 species of amphibians. There also live some mammals. In the lakes also live fishes.
For the first time Chisinau was mentioned in historical documents on 17 July 1436. It got status of a city in 1818 soon after becoming a part of Russian Empire. Chisinau became a capital city in 1940 when there was established Moldavian Soviet Socialistic Republic. After USSR dissolution Chisinau was declared to be the capital city of Moldova and it is the capital city till nowadays.

Cricova winery!
The basements were formed after limestone extraction from the mines. Later, from cellars winemakers formed avenues and streets with wine which are stored in the surrounding niches: Cabernet, Aligote, Sauvignon, etc are the names of the streets and avenues. These avenues and streets have a length of 120 km in total. The constant temperature is about 12 C degrees and humidity that does not exceed 97-98% - are the most favorable conditions for the storage of 30 million l of quality wine.

You will taste 4 types of wine with some snacks.
Please take warm clothes even in summer!

It is a small group excursion.