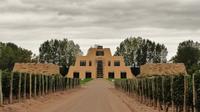 246 €
Catena Zapata Wine Tour from Mendoza
Discover and enjoy on first-hand the secrets of everything related with Catena Zapata. 100 years in Argentinian viticulture and 4 family generations. This is a day for total delight, a tour of the best Argentine wines and a tour of the family that took Argentine wines to the world!
This High-End Tour is designed to encounter, taste and enjoy the best wines of Mendoza. We propose to live this experience in small groups (of no more than 10 people) composed by wine travelers who share the same interest in this fascinating drink.
We begin the day picking you up at your hotel between 8.30 and 9am. Our first stop would be at Bodegas Caro: Two cultures, two families, two vines, one wine.
Caro Winery was born after a partnership between Domaines Barons de Rothschild (Chateau Lafite) and the Catena family. The excitement around it was quickly reflected in a project: make a single wine from the union of two cultures (French and Argentinian) and two vines (Malbec and Cabernet Sauvignon).
Bodegas Caro is located in the heart of Mendoza, in a completely renovated cellar that dates from late 1800s. The cellar is the project's master axis and keeps wines since 2003. Since the beginning, the aim of the winery has been to select the best terroirs to magnify the marriage between Malbec and Cabernet Sauvignon.
After tasting 3 premium wines, we move straight to Catena Zapata in Agrelo, Lujan de Cuyo.
Since Don Nicola Catena arrived from Marche, Italy in late 1900 it's been just over a century. Since that first vine so far, there has been 4 generations who dedicated themselves to produce wines. But the third generation, with Nicolas Catena Zapata was the one that made them take a leap of quality Argentine wine and brought them to compete and win to even the best European wines. That dream come true is continued by Laura, the daughter of Don Nicolas.
The winery Catena Zapata received an avalanche of awards and prizes for its wines which were consolidated from its exceptional quality and beat even the European wines.
Through this tour we are entering the history of the Catena Zapata family, tasting their wines "Angelica Zapata" in its emblematic pyramid winery.
Our last stop would be at Casa El Enemigo… inspired by Alejandro Vigil's childhood with his grandfather, searching the simplicity for its present, and chosen as the temple where they sit and dream of the future. Cultivator of the day to day, open the game and aims to share the happiness that gives you the "daily thing" from the comfort of his home. "The idea is to follow the project just being home," says Alejandro (Principal Catena Zapata's Winemaker).
Here we will enjoy a 4 course menu lunch, all prepared with local products.

The tour ends with your hotel drop-off.