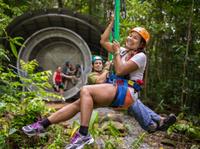 72 €
Cape Tribulation Jungle Surfing Canopy Tour
For unspoiled views of the world's oldest rainforest, head to UNESCO World Heritage-listed Daintree Rainforest for a ziplining adventure. After a short drive from Cape Tribulation, strap into your harness and get ready to soar along a circuit of cables high above the forest canopy. But with no electricity in the park, how does one get to the start point some 65 feet (20 meters) in the air? Group members can walk in a human-size hamster wheel that generates enough energy to hoist participants up to the first platform. Expert guides provide instruction and safety equipment so you can focus on the fun and spectacular views.
You have the option to be picked up from your Cape Tribulation hotel or meet your group at the Jungle Adventure Centre in town. Then it is time to hop aboard a comfortable minivan that shuttles you to a private rainforest reserve adjoining the Daintree Rainforest.

Your fully guided tour starts with a safety talk by your expert guide who will fit you into a full body harness and helmet before you head into the rainforest.

But how does one get that high up in a park without electricity? That's where a giant human hamster wheel comes in, an ingenious lift-system that hoists participants from the forest floor up to the first platform. Two people walk on a treadmill, generating enough energy to wind a cable that hauls fellow group members up to the first platform. Even kids can help power this innovative and eco-friendly lift.

Once you're up in the trees, your guide makes sure that your harness is safely clipped to the line. Then fly from platform to platform, taking in the rainforest canopy as you go. Your guide controls the speed of your descent so that you can go as fast or slow as you like. 

On each platform, your guide talks about the flora and fauna in the rainforest around you. Learn about the incredible biodiversity of the ancient Daintree Rainforest and look for critters and plant species that live in this tropical zone.

At the end of an unforgettable zipline experience, you are returned to your hotel or the Jungle Adventure Centre.