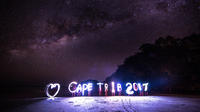 127 €
Cape Tribulation and Daintree Rainforest tour with accommodation
Cape Tribulation is an amazing destination. As well as being the only place on earth where two natural World Heritage listed sites exist side by side, it is a landscape shaped by rugged mountain ranges, winding rainforest rivers and golden sandy beaches facing the sparkling blue waters of the Coral Sea. It's a place to sit and breathe, range and explore. So why not extend your stay and play in paradise with an overnight tour.
Cape Tribulation is where the world's oldest continually surviving tropical rainforests, meet the world's greatest living tropical reef, the Great Barrier Reef. Nowhere else on earth do two natural World Heritage listed sites exist side by side. Such is the natural beauty and precious value of this truly stunning piece of paradise, that you will have ample time to explore and enjoy on the Active Tropics Explorer Cape Tribulation full day tour.
Commence the adventure with a scenic coastal drive from Cairns to Port Douglas. This is the far north's very own great ocean road and provides panoramic views over the sparkling Coral Sea. Heading north our first stop is at Mossman Gorge, which is in the southern sector of the world famous Daintree National Park. This gorge has been carved out by the cold mountain waters of the Mossman River, which winds through large granite boulders, bordered by lush green rainforest. It's a magical place and you'll participate in a "Welcome to Country" with the traditional owners, the Kuku Yalanji people, who will also cleanse you of evil spirits with a smoke ceremony and apply traditional rainforest body paint to you. There's the opportunity for you to enjoy a refreshing swim in the cascading waters.

Continuing north it's onto the Daintree river for a wildlife cruise where you might get to see a crocodile, while learning about the fragile ecosystem of this impressive serpent-like river system. Then we head north to Cape Tribulation Beach House where your overnight stay begins. Form here you are on your own with the rest of the afternoon free for you to explore and enjoy soaking up what Cape Tribulation has to offer. Your nights stay includes your selected room at the Cape Trib Beach House followed by the morning free to explore some more before your pick up at around 2pm where your return tour begins.

First it's time to explore this ancient rainforest environment on an interesting guided tour of the Marrdja Botanical Boardwalk. Our highly trained guides will give expert rainforest interpretation, which will inform and impress.
Be amazed at the huge diversity you will encounter, everything from low lying ferns and shrubs, to the massive rainforest canopy and even mangrove ecosystems all in one short easy walk. Next stop – Floravilla – which has 26 flavours of locally made ice-cream, including dragonfruit, coconut ginger, black sapote and goji berry with rainforest honey. Yum! [At own cost.]
Photo opportunity at the Alexandra Range Lookout (Walu Wugirriga), which provides sweeping views over the Daintree River, its rainforest delta and out to the Coral Sea. We then head to the River Ferry to cross the Daintree River.
Then it's back to Cairns, including a quick drive through Port Douglas, a picturesque beachside village with a laid back vibe and loads of bars and cafes.