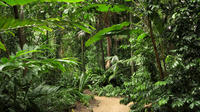 70 €
Cairns Sightseeing Tour Including Botanical Gardens, Mt Whitfield and the Dome
Fall in love with Cairns by spending a full day and night on this small-group tour. Be swept off your feet by incredible views, get hot and steamy on a hike, and spend a dreamy night getting massaged and eating tapas on this Cairns tour.
Despite its size, Cairns has so much to offer. From its incredible natural beauty to its fun nightlife, here's a chance to see and do it all with a local guide - which, as we all know, means you'll get to see the very best of the best Cairns has to offer!

Your Cairns city tour kicks off with a ride on the local bus, as you head for the wondrous Botanical Gardens. Take the Red Arrow Track and follow it for a 40 minute hike to the top of Mount Whitfield where you'll be treated to some incredible views. Drink in the fantastic vistas of Trinity Inlet, the city of Cairns, and its beautiful surrounding natural environment and marina - something you'll definitely want your camera for!

As you continue to tour Cairns, head towards the Aboriginal Plants and Gardens area along the Gondawanan Heritage Walk, where you'll gain knowledge of the variety of medicinal plants used throughout history (and even today) all over Australia.

By this point on this Cairns tour, you're sure to have built up an appetite so after a good stretch, it'll be time for some lunch! With a picnic lunch planned full of locally caught fish and chips to indulge in. Tuck in and enjoy – you've earned it!

Full and happy, jump back on the bus to go back downtown, where you'll visit the iconic Dome for another elevated view of the city at sunset, kicking off the evening portion of the cultural tour of Cairns.

After the epic sunset, head straight for the night markets. There's so much to explore at the Cairns Night Markets, but it is recommended you start off with a crepe (it goes really well with honey from the local honey shop across the way!). Pay a visit to several local artists, including Steve, a glass blower, and Glen, a didgeridoo player. You can see both of these artists in action, as well as many others.

From there, it's time for a little relaxing - a pampering 40 minute massage awaits! Once you're all relaxed, it'll be time for a bite to eat. You'll get to sample local cuisine appies like fish, beef, kangaroo, and crocodile – does it taste like chicken?! – before leaving the night markets and heading for the famous Esplanade.

Cairns is known for its ocean-front Esplanade, a picturesque boardwalk where we'll give you some insight into the history of Cairns and share local stories before arriving at our last stop – one of a few of the favourite local hotspots. This final destination depends on opening hours, but there are a number of great local spots around here you can go to. If anything, you're spoilt for choice!

Spend the rest of the night mixing and mingling with locals, enjoying a cocktail, beer, or glass of wine, and nibbling on some tapas, if you feel so inclined. Not a bad way to spend an evening in Cairns, don't you think?