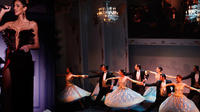 76 €
Cafe de los Angelitos Tango Show with Optional Dinner in Buenos Aires
At Cafe de Los Angelitos, you will be a witness to more than a 100 years of Buenos Aires dance history on an incredible tango-filled evening. Enjoy the spectacle at the beautiful historic coffee house, Cafe de los Angelitos, and let yourself be enchanted by Argentine charm, passion, and artistic elegance. Every night, 21 talented artists step up on stage to display their ingenious mastery of tango. Enjoy this unforgettable evening of fantastic music and dance. If you choose the Dinner option, you'll indulge in a delectable gourmet meal before the show. Enjoy a variety of fine wines, Argentine steak, and sinful desserts. If you choose the show only option, you will arrive directly to enjoy a Tango night.
After hotel pickup, you'll head to the Balvanera neighborhood where "Café de los Angelitos" is located. If you choose the dinner option, you'll start your evening with a delicious three course dinner featuring an international menu as well as more traditional dishes (see sample menu below).

If you choose the show-only option, slip into your seat in time for the performance, and enjoy provided wine or soft drinks.
The show begins at approximately 10pm and it will be a memorable experience. With more that 20 artists on stage, the tango show will include a live musical quintet (bandoneon, piano, violin, guitar and bass), two singers and five dance couples.
After the show, you will be dropped off at your hotel.

Sample three course dinner menu (subject to change):

Starters (choose one of the following):

Salmon Gravlax on toasted brioche and potatoes in dill emulsion
Crispy Philo with Duxelles of mushrooms and sautéed vegetables in Curry carrot coulis.
Golden onion tart with Genovese pesto goat cheese.
Crab in tartar sauce and creamy yellow potato
Main course (choose one of the following):
Angus steak (Bife de Chorizo) with rustic style potatoes and caramelized onions.
Mediterranean chicken breast on a soft cream of spinach and Gratin of eggplant in a two cheese crost.
Select fish in smoked pepper sauce with slices of pumpkin and goat cheese slices.
Pumpkin, blue cheese and walnut filled ravioli, in spinach dough, with a three tomatoes sauce.
Desserts (choose one of the following):
Cointreau's chocolate mousse, strawberry coulis and chocolate, dried fruit praline.
Dulce de Leche creme brulée.
Pears in white wine and saffron with ice cream.
Phyllo rolls with a banana split, caramel apples and ice cream.
Free Drinks (choose one of the following):
La Rural Wineries: Red Wine San Felipe, White Wine San Felipe.
Sparkling and still Water
Soft drinks
Beer
Coffee