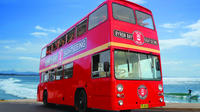 25 €
L'activité n'est pas disponible, essayez une autre recherche !
Byron Bay Hop-on Hop-off Bus Tour
Byron Bay hop-on hop-off tour is a one hour circuit of Byron Bay's most scenic attractions in an open-top double decker bus. You are encouraged to hop on and off at any of the stops to enjoy Byron Bay's spectacular walks, beautiful beaches, stunning lookouts and the famous Byron Bay Lighthouse boardwalk, or to just sit back and relax taking in the breathtaking open-top deck views. This is a great way to explore Byron Bay!



Hop on and off all day and stay as long as you like at each attraction, you'll be picked up on the next round! You design your own day...hop off for coffee (coffee not included), sit back and take in the views, hop off for the Lighthouse walk, hop back on and be taken for lunch (at own expense), finish the tour with breathtaking views and perhaps hop back on the next day to do the Arakwal National Park walk or relax at a secluded beach...after all you have a 24 or 72 hour pass!

The Byron Bay hop-on hop-off bus tour departs daily from the Visitor Centre bus stop on Jonson St every hour on the hour from 10am to 3pm. Then resumes from the visitors centre bus stop at 3.30pm and 4.30pm, finishing at 5.30pm. But feel free to start your tour at any of our stops.

The driver will give you a map and a brochure explaining the attractions and walks as well as duration of walks and degrees of difficulty.

Stops:
1: Main Bus Stop, Byron Visitor Centre
2. Main Beach, opposite Beach Hotel
3. Clarkes Beach and Byron Beach Cafe
4. The Pass Beach and the Pass Cafe
5. Wategos Beach and Lighthouse Boardwalk
6. Tallow Beach
7. Top Shop Cafe
8. Paterson Hill & Arakwal National Park
9. Coopers Shoot Hinterland Lookout
10. Road House Cafe

Walks:
Clarkes Beach to The Pass Beach
The Pass Beach to Wategos Beach
Wategos Beach to the Lighthouse
Lighthouse Circuit to Tallow Beach stop
Tallow Beach stop to Tallow Beach
Patterson Hill Tallow Beach through Arakwal National Park

Scenic Lookouts:
Captain Cook Lookout
The Pass, Fisherman's Lookout
Australia's most easterly point
Byron Bay Lighthouse
Patterson Hill and Arakwal National Park
Bangalow Hinterland Lookout

Imagine this day...
It will be hard not to fall in love with this melting pot of local culture, fine foods, spectacular panoramic views and stunning white sandy beaches. Climb aboard the open top bus, Byron Bay is breathtakingly picturesque from the top deck and with the wind in your hair! Hop off and kick start your morning with the best coffee and big breakfast in town (at own expense). Hop back on, a must have swim at the next stop perhaps? Which happens to be the next best thing to tropical island paradise or enjoy a rainforest walk in glorious sub -tropical heaven. Whether you decide to go native and break the day with a surf or siesta or you are still hyped for more adventure another swim is a must right now. But do you go for quaint island seclusion or rugged vast coastlines? You decide… six stunning beaches to choose from!

Having worked up an appetite your thoughts might be turning to food… let the bus take you to lunch … with 10% discounts!

Feeling replenished, its time to walk the magnificent boardwalk to Byron Bay's light house for whale and dolphin watching from Australia's most easterly point!

Lives are lived alfresco in Byron Bay, and you will travel with the wind still in your hair, returning to town in time for for sunset drinks!

Aah! What a day in Byron Bay!