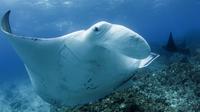 131 €
Byron Bay 5-Hour Introductory Dive Tour
Dive Byron Bay's Julian Rocks Marine Reserve. Julian Rocks is one of the few dive sites where you can swim with tropical species found on the Great Barrier Reef as well animals from Australia's deep Southern Ocean. The course includes equipment hire, one swimming pool lesson and one dive at the Julian Rocks Marine Reserve with a qualified scuba instructor. All confined water training is conducted at the dive shop, an instructor training facility, located in the heart of Byron Bay. Here there is a fully equipped classroom and a training pool heated to 25 degrees Celsius. All open water-training dives are boat dives conducted at Julian Rocks Marine Reserve. Here you will swim with tropical species such as turtles and manta rays, as well as many interesting southern ocean animals including friendly blue gropers and wobbegongs. All this only a five-ten minute boat ride from Byron Bay.
Please arrive at the Byron Bay Dive Centre at your selected departure time (either 6:30am, 9:30am or 12:30pm) and ensure you bring a swimsuit and a towel.

Before reaching Julian Rocks, one of Australia's most spectacular dive sites you will complete a medical questionnaire, ensuring you are fit to dive, watch a video about your first scuba diving experience and complete one pool session with one of the friendly instructors. The pool session will teach you all the skills you need to be ready and comfortable to go to the ocean. Your instructor will instruct you where to leave your bags, valuable items and personal belongings and set up all your equipment for you. 

We will provide transport to The Pass, where the boats are launched to take you on a very short (5-10 minute) boat ride out to our scuba diving destination. Keep a eye out for dolphins and whales (June to November) on the boat ride!

Once you reach Julian Rocks, the skipper will brief your instructor on the area you will be diving! Your instructor will assist you into your equipment and perform a buddy check on you before you enter the water. You can then enjoy up to 50 minutes in the water scuba diving with three different species of sea turtle, an assortment of rays including mantas, hard and soft corals, friendly wobbegong sharks and over four hundred different species of fish. 
For all introductory dive tours you will be supervised by a qualified scuba diving instructor who will ensure you get the most from your trip to Julian Rocks Marine Reserve.
When you return to the dive shop there are hot showers and your instructor will present you with a certificate of completion and give you information on how to take the next step in diving and complete your open water course!