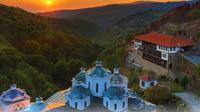 60 €
Bulgaria and Macedonia Full-Day Tour from Sofia
The tour starts from your hotel. The first stop will be Boyana Church, which is situated in Sofia. Afterwards, head towards the Zemen Monastery, were you will arrive after approximately one hour and a half drive. After enjoying Zemen Monastery, you will continue towards Osogovo Monastery in Macedonia. After approximately two hours transfer you reach your destination. You will have the chance to enjoy the Holy Cloister and have a traditional lunch in the nearby restaurant. Transfer to Sofia- the tour ends at your hotel.
Begin with pickup from your Sofia hotel and travel to your first stop of Boyana Church: a designated UNESCO World Heritage Site since 1979.

Located on the outskirts of Sofia, this exquisite church follows the Byzantine architectural pattern of consisting of three parts: a Greek cross ground-plan, dome, and richly decorated facades with ceramic elements.

On arrival, head inside to admire the stunning interior. The walls and ceilings are adorned with several layers of paintings dating from the 11th, 13th, 15th to 17th, and 19th centuries,  which together feature 89 scenes and 240 human figures depicted either individually or together.

Its main claim to fame are its 13th-century murals, created in 1259, which echo and represent key movements and moments in Bulgarian medieval culture. According to experts, the style of these glorious frescoes resembles, yet predates the Renaissance.

Having explored here, continue to the Zemen Monastery of St. John the Evangelist. Founded during the First Bulgarian Empire (681-1018 AD), this splendid complex consists of a church and monastic living quarters, the latter dating from the mid-19th century, together with a bell tower added on the fall of the Ottoman Empire in 1878.

Learn how the church was built sometime during the 11th or 12th century, and hear how Deyan, the ruler and despot of the Velbazhdosko Empire, donated funds in 1334 to have it restored. Head inside to see some of the church's 12th-century elements and view the portraits of its founders, including the despotic ruler Deyan and his wife Zoya, dating from the 14th century.

Afterward, enjoy a roughly 2-hour drive into Macedonia to visit Osogovo, an Orthodox complex established in the 12th century and dedicated to Saint Joachim Osogovski.

Perched high in the lush forests of the Osogovo Mountains, this stunning monastery is considered one of Macedonia's most beautiful and consists of a small 14th-century and larger, 19th-century church, together with old dormitories and other buildings.

Admire the churches and their frescoes, and learn how the monastery has withstood an earthquake, Ottoman damage, and the ravages of time.

Refuel with a light lunch at a nearby restaurant and then return to Sofia where your tour ends with a hotel drop-off.