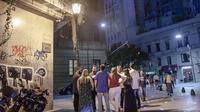 46 €
L'activité n'est pas disponible, essayez une autre recherche !
Buenos Aires Night Tour
At night Buenos Aires is even more charming. The one and only Buenos Aires Night tour takes you to a historic journey through streets and historic landmarks in the tango capital starting at 8pm. Our tour takes 3 hours, spending most of the time in the streets and not in our van. The gran finale is a visit to a restaurant with the best view of the city, where we drink the best 'espumante' (argentine champagne).
In the Buenos Aires Night tour you'll get to see a different side of Buenos Aires, even more charming. Our meeting point is downtown close to a subway station and there we'll show you a hidden street, a place full of stories and legends (and maybe ghosts). Our knowledgeable and fun guy will tell the story of the tango and how a disease set the fate of Buenos Aires. You'll learn about the dark times of the city and how it affects the city and its people even today.

Then we take the van to Recoleta, one of the most beautiful neighborhoods of Latin America and you'll learn why this place looks so familiar. Maybe Paris? We have our second stop close to the Floraris Metalica and the Law School of Buenos Aires, two amazing constructions that are more fantastic at night. We later go to the Planetario, a majestic work of architecture and light.

Our next stop is Puerto Madero, the newest and richest place of the city. It's so different of the classic Buenos Aires. You will continue and stop to see the Casa Rosada and Plaza de Mayo, the main square of the capital, a place where history happens. We then go through all Avenida de Mayo, a classic avenue that connects the Presidencial Palace to the Congress, and Avenida Corrientes, the avenue that never sleeps. Our tour ends in a restaurant in the 21th floor in downtown Buenos Aires where we all drink 'espumante' (argentine champagne) with one of the best views of the city!