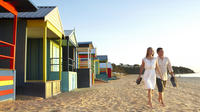 92 €
Boutique Intimate Day Tours to Mornington Peninsula and Phillip Island with Optional Reserve Seating and Gourmet Lunch ex Melbourne
Inspiring one day travel experiences to the Mornington Peninsula & Phillip Island Tour. Travel in a small group of only 12 people allowing your guide to best showcase incredible iconic coastlines, scenic peninsula views, Australian wildlife sanctuary and a gourmet dining experience of locally sourced produce at Green Olive Winery Restaurant (optional extra).  Maximize your time in Melbourne whilst creating lasting memories with your loved ones. You can also choose to upgrade and guarantee yourself reserved seating at the front of the vehicle for added comfort and best views. (optional extra - max 3 pax).
Detailed Experience Itinerary

The Mornington Peninsula & Phillip Island tour departure times vary due to daylight savings, 9:00am during winter months and 10:00am in summer months.  Phillip Island is approximately 1 hour 45 minutes from Melbourne which is why we choose to showcase the Mornington Peninsula only 45 minutes* drive from the city.
Our first stop on our Phillip Island tour is to showcase 100's of tiny wooden bathing boxes along Mt.Martha Beach. Probably the Mornington Peninsula's most stunning coastal views. We then travel to the Mornington Peninsula's most amazing lookout. Set 300m above Port Phillip Bay enjoy a great perspective of the Mornington Peninsula and marvel at Melbourne's city skyline in the distance.
Begin your journey away from the coast into the Peninsula's hinterland home of Victoria's best fresh produce. Visit the award winning Green Olive Winery at Red Hill. Enjoy a walk through the olive grove soaking up the pleasures of farm life and admire the diverse fresh produce growing in the veggie garden.  At Green Olive your lunch is picked fresh from the gardens in the morning and beautifully presented tapas sharing platters with the philosophy that food is the heart & soul. (optional extra)
From November 1st to March 31st you will have the choice of visiting the Sunny Ridge Strawberry Farm. Here you will visit Australia's largest producer of strawberries, speaking of largest, these are some of the largest sweetest strawberries in the world. You will be thrilled to pick your own and take home with you 500g of strawberries.
Your Phillip island tour then travels to the Moonlit Sanctuary where you'll enjoy close encounters with Australia's most iconic native animals. Set in a natural bush setting makes for amazing photo's. Option to hand feed the kangaroos & koala petting encounters.
Your Phillip island tour journeys across the San Remo bridge to Phillip Island. Enjoy views of Phillip Island before arriving at the Nobbies. The Nobbies being a showcase of stunning coastlines and wildlife. Search for little penguins who stayed home. This is your only penguin photo opportunity as photography is not allowed at the penguin parade.
As you journey along the south coast of Phillip Island you'll be blown away by the pristine environment which has been regenerated by the Phillip Island Nature Parks attracting up to 32,000 little penguins.
Your Phillip Island tours then arrives to the Phillip Island Penguin Center. Explore the visitor center before the penguins arrive to better understand their unique behaviors. We will escort you to your viewing area showing you to the best available viewing position to see the most penguins cross the beach.