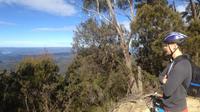 52 €
L'activité n'est pas disponible, essayez une autre recherche !
Blue Mountains Self-Guided Mountain Biking: Oaks Fire Trail from Woodford to Glenbrook
Head to the Blue Mountains, grab a mountain bike and set off on the Oak Fire Trail, widely regarded as one of the best mountain bike tracks in Australia. The trail runs between Woodford at an altitude of 1,998-feet (609m) and winds down to Glenbrook at 535-feet (163m). Along the way you'll pass by Aboriginal rock engravings and on a clear day you'll be able to see the Sydney skyline in the distance across the Western Plains. This self-guided 17.5-mile (28km) one-way ride is graded medium to hard, and travels over rocky, gravel, sand and clay surfaces, generally taking 1.5- to 2.5-hours to complete.
Collect your mountain bike from the Woodford bike shop conveniently located on the Great Western Highway, adjacent to Woodford Train Station. The friendly staff will provide all your equipment including helmet, puncture repair kit, pump and directions to the start of the trail, only a short distance away. The 18.5-mile (30km) Oaks Fire Trail is a direct route to Glenbrook train station and once you have finished the ride, a short 30-minute trip by train will have you back in Woodford.

There is plenty of downhill riding as you descend from 1,998 feet (609m) to 535ft (163m) but don't be fooled, there is plenty of uphill action so a decent level of fitness is essential.

The first 5-miles (8 kms) of trail is down and uphill with plenty of challenging hills to climb. Once the hills start to settle you will cycle past ancient Aboriginal landmarks 'The Circles' carving of concentric circles, then as the vegetation becomes lower you can see the Sydney skyline on a clear day. Once you hit the helipad it is feet up time with kilometer after kilometer of uninterrupted downhill. Once you get to 'the gate' there are two options. Veer to the left for the single track or straight ahead for the National Parks dirt road which you may encounter the occasional car. The single track runs parallel to the road and re-joins the road before the weir crossing. The weir crossing signals the start of a very steep 500-meter climb on tarseal. Mentally and physically prepare yourself for this as it is a challenging climb into Glenbrook.

The trail generally takes 1.5- to 2.5-hours to complete and Glenbrook has some of the best eateries on the mountain while you wait for your train (at own expense). Train fares are a little over AU$5 and bikes ride for free! From Woodford station, head back to the bike shop only one block away to return your bike.