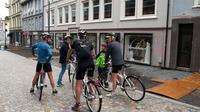 108 €
L'activité n'est pas disponible, essayez une autre recherche !
Biking Tour and Grieg Concert in Bergen
Enjoy a self-guided biking tour from the city center to Edvard Grieg's home on Troldhaugen, where you eat lunch and listen to a reconstructed Grieg concert. Visit the local castle, Gamlehaugen, the home of Edvard Grieg and the museum, along with the Fantoft Stave Church on this 5-hour bike tour.
This bike route will take you to the traditional "upper class area" of Bergen. Start the bike adventure at Bergen Basecamp in the city center, adjusting the bike to your needs. The route is going south of Bergen – first through the city center then on the way, you will visit the local castle, Gamlehaugen, where the royal family stay. You cannot enter the castle, however, there is a great outdoor area where it is nice to take a swim on hot summer days. The route continues on the road called "Paradisstranden" (Paradise Beach). Pass the house Wernerholm, where BjørnstjerneBjørnson wrote the national anthem of Norway. The goal of the tour is Troldhaugen, where you will stop for lunch and a concert. Included is also a visit to the home of Edvard Grieg and the museum. Returning to the city center, you take a different route via Fantoft, where you can see Fantoft Stave Church.

Route info: Flat bike roads most of the way, but a small hill up to Troldhaugen. The route is approx. 25 km (15.5 miles) all together and takes about 5 hours. This is a self-guided tour, which means that you will be provided with directions through a mobile app, which will guide. You will also be provided with written information about the places you visit.

Included: Rental of a high quality bike, helmet and locks for the bikes. App with the necessary directions, and written tour information. Tickets to Edvard Grieg's house, museum and the lunch concert. Voucher for lunch at Troldhaugen. Entrance to Fantoft Stave Church.

Lunch options: Local fish soup, optional salad or today's soup. No drinks included

Time table:
10:30am: Meeting at Bergen Basecamp to get ready
11:00am: Leaving Bergen Basecamp
11:30am: Visit Gamlehaugen (7 km)
1:00pm: Lunch concert starts in Troldsalen (5 km)
1:30pm: Lunch in the cafeteria at Troldhaugen
2:30pm: Leaving Troldhaugen towards the city center
3:00pm: Fantoft Stave Church
3:30pm: Be back at Bergen Basecamp in the city center (15.5 miles - 8 km)