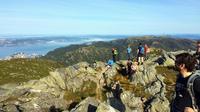 130 €
L'activité n'est pas disponible, essayez une autre recherche !
Biking and Hiking in Bergen
Experience both summit and sea level of Bergen, with a self-guided biking tour among the highlights, combined with hiking on the highest city mountain
This trip takes you through the city of Bergen by bicycle, where you will experience the city highlights at your own pace. We have made a recommended route, but you choose what you want to visit, and where you want to bike. When you are satisfied with the city center, you go up to the Ulriken cable car where you stop biking and start hiking. At the top of the Mt. Ulriken (643 MASL), you can decide if you want to do a 1-hour or 3-hour hike. There is a lot of cultural history and a scenic view to take in while hiking in the area around the summit of the highest city mountain in Bergen.

Route info: We have made a recommended biking route, which is fairly easy to ride, which is mostly along bike paths and flat roads. Be aware of approaching cars. This is a self-guided tour, which means that you will be provided with GPS and an app, which both will guide you to the same place. You will also be provided with written information about the places you visit.
We recommend you to make a stop at The Norwegian Fishery Museum, Gamle Bergen (Bergen Old Town) and Mariakirken (Maria Church). Follow Fjellveien (Mountain Road) to get a great view of the city.

Included: Rent of high quality city bikes, helmet and locks for the bikes. Rent of GPS with all necessary coordinates, and written information about the places you visit. Tickets for Ulriken cable car, and lunch package for the hike.

Practical information: Bikes, equipment, and vouchers will be provided at the start point in the city center. We will go through the equipment with you and adjust the bikes for you before you leave. We recommended you to bring a water bottle, sport shoes, warm and windproof clothing, extra clothing depend upon season, camera and sunglasses. Remember to dress according to the weather!
Time table:
10.00: Meeting at Bergen Basecamp
10.30: Leave Bergen Basecamp
11.30: Visit Gamle Bergen approx. 4,5 km
13.00: Gamle Bergen – Ulriken approx. 7,5 km
14.00: Arrival at Mt. Ulriken
15.00: Hiking in the area
17.00: Biking Ulriken – city center approx. 4 km
19.00: Be back at Bergen Basecamp in the city center
This is a recommended timetable, where we estimate you to take the 3-hours hiking trip. However, you can manage your day as you like, but be aware that the bicycles need to be back at 19.00.