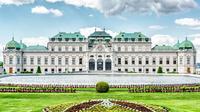 331 €
Belvedere Palace 3-Hour Private History Tour in Vienna: World-Class Art in an Aristocratic Utopia
Discover Belvedere complex on a 3-hour history tour with a scholar guide and familiarize yourself with architectural masterpiece of a bygone aristocratic splendor. After your 2-hour excursion through the grounds and palaces, your guide will give you an introductory hour to point out the world-class art museum's highlights.
Meet-up with your guide in morning or afternoon and begin your tour of the Belvedere complex, an architectural masterpiece of a bygone aristocratic splendor designed to project a sense of earthly harmony (entrance fees not included). This terrestrial utopia was founded in the first decades of the 18th c. as a summer residence for Prince Eugene of Savoy, one of the most successful military commanders in modern European history.

Among the significant buildings of the 18th century, the grandiose palace of the Upper Belvedere is a masterstroke of Baroque architecture while the surrounding formal gardens were inspired by classical antiquity. The great water basin in the upper parterre, the tiered fountains and cascades peopled by nymphs and goddesses, the marble statues of gods and heroes, the intricacy of the wrought iron gates still testify to the legacy of Eugene's significant patronage of the arts.

In the Upper Belvedere, your guide will help you to explore the Baroque elements of the Festive room, while in the Lower Belvedere, we'll discuss the art historical features of the Marble Hall, the Marble Gallery and the Gold Cabinet.

After the 2-hour excursion to the grounds and palaces, your guide will give you an introductory hour to point out the Art Museum's highlights, such as David's well-known canvas "Napoleon on The Great St. Bernhard Pass" from 1801, where propagandist pathos melds with the artist's fiery boldness. In a different way, Caspar David Friedrich's atmospheric "Seashore in the Fog" combines romantic introspection with metaphysical symbolism in a sensitively, precisely painted maritime landscape. Austrian painting in the era of Biedermeier is represented by Friedrich von Amerling's emotive rendering of familial affection in "Rudolf von Arthaber and his Children" (1837) and by Friedrich Waldmüller's "The Morning of Corpus Christi" (1857), where the realistic reproduction of sunlight is the major compositional means of demonstrating the sacred on earth.