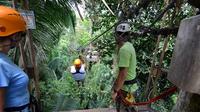 81 €
Belize City Shore Excursion: Canopy Zipline Tour
The Belize canopy zipline experience is one of the most popular ways to get up close and personal with nature. Travel across the rain forest via eight platforms on this half-day tour, two of which cross the Sibun Caves Branch River. The longest distance between two platforms is 1200 feet (365 meters), but don't worry if you have a fear of heights. Professional instructors will be there every step of the way to assist you and keep you comfortable and safe!
To begin this adventurous half-day tour, you'll meet your personal guide just outside your cruise terminal at a morning time of your choosing. Hop in the air-conditioned minivan for an hour's drive to the canopy zipline platforms in Nohoch Che'en Archaeological Park. As you drive through small villages, your guide will explain the flora and fauna of the jungle to your small group of 15 or fewer people. Your personal headset will ensure you won't miss a word of what the guide says.

There will be a bathroom and bug-spray break as you arrive at the park, following which you'll suit up in your provided harness and headgear and attend a zipline-safety meeting. The ziplines progress in difficulty and distance, with the first one (The Chicken Run) created to get you used to being a "ziprider." As you move from platform to platform, you'll progress in skill and the distances will get longer. There is a professional guide on each platform to attach and detach your double-redundant safety harness, and bottled water at the platform midway through the excursion. After you reach the final platform, you'll be take back to the main starting point where you'll enjoy lunch at the restaurant before being driven back to the cruise terminal.