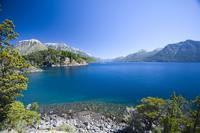 44 €
L'activité n'est pas disponible, essayez une autre recherche !
Bariloche Sightseeing Tour
Soak up the beauty surrounding Bariloche on a half-day or full-day coach tour with an expert guide! Travel along a road that follows the gorgeous Nahuel Huapi Lake to several vista points where you'll see spectacular views of the many lakes and mountains of the area. With stops for photographs and time to enjoy the scenery, this tour shows you the many natural highlights of this breathtaking region!
The area around Nahuel Huapi Lake is known for its picturesque beauty -- reminiscent of the Swiss Alps with A-frame chalets, St Bernard dogs and pretty flower boxes. On this coach tour through the Bariloche Lakes District, take in the scenic alpine meadows and pristine forests of beech, cypress and pine. See stunning scenery amid lakes full of trout, salmon and perch, and enjoy knowledgeable commentary from your guide as you ride in a comfortable coach through this incredible region.

Half-Day Tour (morning or afternoon): 

After pickup from your hotel, enjoy a day's drive covering about 37 miles (60 km) of stunning territory. First, head out on the road that skirts the shores of Nahuel Huapi Lake. After six miles (10 km) you'll reach Cerro Campanario (Belfry Hill), where you can disembark to take pictures with incredible vistas of several lake and mountain landmarks. Then, continue on to experience the quiet beauty of the Llao Llao Peninsula.

When you reach the Llao Llao Peninsula, stop in Puerto Panuelo, a small port along the Nahuel Huapi Lake. Admire the San Eduardo Chapel, an elegant wooden structure by architect Alejandro Bustillo, who built several masterpieces in this region including the spectacular Llao Llao Hotel. Next, continue along the scenic route past Lopez Bay and Lopez Hill to Clover (El Trebol) Lagoon before your guide returns you to your hotel.

Full-Day Tour:
On your full-day coach tour, travel 155 miles (250 km), starting with a drive along the Limay River past Rincon Chico, Rincon Grande and the Amphitheater, a gorgeous area of clear waters and quiet beaches surrounded by craggy mountains. Continue to the Enchanted Valley (Valle Encantado) with its amazing rock formations, then on through Confluencia and Cuyin Manzano. Gauchos (cowboys) and their families settled the rustic hamlet of Cuyin Manzano before the national park was established. The residents sell handmade crafts such as knives with bone handles, wool clothing and rugs.

Next, follow the road across the Minero River to the incredibly scenic Traful Lookout, perched on a sheer cliff three miles (5 km) above Lake Traful. After taking pictures and enjoying the view, continue to the charming lakeside hamlet of Villa Traful, where you can eat lunch (own expense) and browse the shops. Afterward, pass the sandy lakeside beaches of Puerto Arrayan and Portezuelo as you rejoin the Seven Lakes Road and head to Villa La Angostura.

Considered one of Argentina's loveliest towns, Villa La Angostura is a popular town on the north side of Nahuel Huapi Lake. The work of architect Alejandro Bustillo gives the town a lot of its charm, as does the natural setting. After a stop in Villa La Angostura, your guide and coach will take you back along the scenic roadway to your hotel in Bariloche.