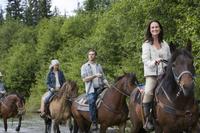 96 €
Bariloche Horseback Riding Tour with Traditional Argentine Asado
Journey into the Patagonian steppe and the foothills of the Argentine Andes on a pleasant 2-hour guided horseback ride. Along the way, admire a picturesque lake, transitional forests of cypress trees, and spot condors, black-necked swans, guanacos and deer. On this day excursion just outside of Bariloche, visit one of the oldest working ranches in the area, where you'll enjoy a 3-course lunch with 'asado' (traditional barbecued meats) and an open bar of select beverages. Riders of all experience levels are welcome, and hotel transport is included.
After hotel pickup, travel by air-conditioned coach for about an hour east of Bariloche and head to Puesto La Fragua de Estancia San Ramon (San Ramón Ranch). One of the oldest working ranches in the area, San Ramón Ranch spans 62,000 acres (25,000 hectares) into the foothills of the Argentine Andes. When you arrive, you'll notice cattle and sheep roaming the grasslands.

Follow your guide to an old countryside school converted to the ranch's eating area, located below one of the largest condor nesting rocks in the region. You might just see one of these impressive creatures soaring high in the sky. Inside the former school, ranch staff welcome you with a light breakfast of sweets, coffee, juice and mate tea.

Next, mosey over to the stables for a safety briefing and be paired up with a horse that matches your riding experience. This tour is suitable for both beginners and more experienced riders; you'll learn some horseback riding techniques from your expert guide who leads the way on a 2-hour journey into the Andes foothills.

Pass a picturesque lake and ride through transition forests before reaching the Patagonian steppe. Keep your eyes peeled for condors, pink flamingos, black-necked swans, guanacos, rheas and deer. Your guide explains the geological sights, plants and wildlife you see along the way.

After your horseback ride, return to the ranch and dig into a 3-course lunch featuring Argentine asado (see below for a sample menu). The feast of traditional barbecued meats comes with an open bar of wine, soft drinks and mineral water.
Your appetite sated, enjoy transport back to your Bariloche hotel.

Please note: If you select the afternoon tour, you will start off with lunch, then the horseback ride, and end with snacks consisting of sweets, coffee, juice and mate tea.

Sample lunch menu (subject to change):*
First course


Main courses
Grilled chorizo
Asado (barbecued grilled meats) accompanied with salad

Dessert
*Please note:
If you have dietary restrictions, please note these when you book the tour.