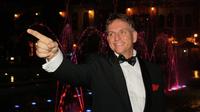 11 €
Aruba Sinatra Dinner Show
Enjoy an enchanting Aruba Sinatra dinner show at The Old Cunucu House Restaurant featuring Fred de Jong with songs such as "Fly Me To The Moon", "I've Got The World On A String", "I've Got You Under My Skin", "My Way", "New York - New York", "The Way You Look Tonight" and about 100 more songs available!
Experience beautifully composed, orchestrated, and arranged music with wonderful romantic lyrics made famous by singers like Frank Sinatra, Michael Buble, Harry Connick, Jr. and others sung by Aruban vocalist Fred de Jong.

The Aruba Sinatra Dinner Show at The Old Cunucu House Restaurant will give you a taste of Aruban native hospitality and an atmosphere that is enchanting, cozy, and romantic. Order local food and delicious drinks while watching the Aruba Sinatra Dinner Show.

Listen to a number of your favorite romantic songs such as: "Come Rain, Or Shine", "For Once In My Life", "Girl From Ipanema", "Guess I'll Hang My Tears Out To Dry", "It Had To Be You", "It Was A Very Good Year", "Luck Be A Lady", "Night And Day", "One For My Baby", "Softly As I Leave You", "Witchcraft", "You Make Me Feel So Young", and many more!

What is an Aruba Sinatra Dinner Show experience like?

The show is set at a traditional Aruba restaurant in a separate area with capacity for 40 people divided over about 15 tables. The food is native Aruba cuisine which has been influenced by colonial Spanish, French, and Dutch cuisine and is served in a 150 year old refurbished farm house. The dress is casual evening attire. The restaurants is old style where orders are taken on paper not computers.

My goal is to provide our guest with an intimate setting where our guest can relax and interact with me instead of a large impersonal Las Vegas style show room. I have selected beautiful and romantic arrangements that are pre-recorded. This gives the feel of a big band / an orchestra but allows me to offer the show at a much lower cost. I do not try to mimic the commercial recordings of Sinatra but instead offer my interpretation of Franks relaxed and informal live style. The show is about 2 hours which gives you time to order and enjoy your food and drinks during the show without arriving early. The food is coursed over the evening as is typical in European restaurants where dining is an experience not just a meal. I think the music of the great American Songbook is special and worth preserving. Come let me share it with you in a special evening off the strip.
Special Offer - Book by September 30th to save 15% off our previously offered price! - Book Now!