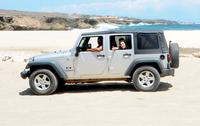 74 €
Aruba Off-Road Adventure: SUV Tour and Optional Snorkeling Cruise
Explore Aruba in your own off-road vehicle — a Jeep Wrangler or Kia Sportage — checking out natural landmarks, parks and other attractions that make up this arid island in the southern Caribbean. See the ruins of the Natural Bridge, Arikok National Park, Boca Mahos and Baby Beach. Then enjoy a waterfront lunch at Pelican Nest Seafood Grill. Round out your day of outdoor fun with a catamaran snorkeling cruise (if full-day option selected). Hotel transport is included.
After hotel pickup, head to the tour operator's base to hop into your Jeep Wrangler or Kia Sportage, depending on option selected when booking. Grab the driver's seat if you want to take control of the first shift, or settle into a passenger seat and switch driving duties with the rest of the group later in the tour. Each vehicle holds a maximum of four people.

Set off on your round-island tour of Aruba, traveling from the rugged landscapes of the northern end all the way down to the southern tip. You'll see the best of the island's natural attractions, including the Natural Bridge, a coral limestone bridge formed by ocean erosion over thousands of years. The bridge collapsed in 2005, but you can still see its rocky ruins and admire the remote coastal setting.

You'll also visit a lighthouse, the ruins of a gold mine, Boca Mahos cove and Arikok National Park, where you can see Guadirikiri Cave and its Amerindian petroglyphs. At the southern end of the island, visit Baby Beach, named for its calm, shallow waters popular for swimming with kids.

The off-roading portion of your tour ends at Pelican Pier on Aruba's northwestern coast. Here you can sit back and relax at Pelican Nest Seafood Grill, a waterfront eatery on the end of the pier. Dine on a lunch of chicken or fresh fish accompanied by Caribbean views, and then you're free to spend the rest of your day at your leisure, if you've chosen the half-day tour.

If you're on the full-day tour, next up is a catamaran snorkeling cruise! With an experienced sailing crew, head out along the coast, enjoying the laid-back atmosphere and relishing the feeling of the warm sea breeze. Stop to snorkel with tropical marine life (equipment provided) at two locations — the Antilla shipwreck and Catalina Reef. An open bar and snacks are provided on the boat.

Your tour comes to an end when you return to the pier and are driven back to your hotel.