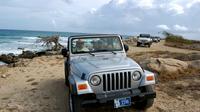 72 €
Aruba Half-Day 4x4 Jeep Safari Tour
Leave your comfy hotel behind and join us on this shorter version of an off-road adventure. Ideal for those who want to discover some of Aruba's wild side without spending a full day on tour. Be your own driver in a four wheel drive jeep, which will show you the highlights of this beautiful island.
In a four-wheel-drive Jeep, enjoy a unique and bumpy off-road tour visiting the main highlights of Aruba. Your four-door Jeep will allow you to access several outstanding locations that cannot be accessed by standard vehicles. The Jeeps are automatic four-wheel-drive vehicles with the capacity for four passengers. If you have less than four in your group, your guide will match you up with other guests.

Once settled in your Jeep, you will follow your professional and friendly tour guide who will lead the group in their own Jeep. The first stop on this comprehensive, sightseeing tour will be at the California Light House, named after a ship named the Californian, which is
best known for having received distress signals from the Titanic as it sunk in icy waters in 1912.

After the California Light House there will be a short stop at the Rock Garden. The Rock Garden is a group of stacked rocks which were created and formed over years and years. This stop also provide a great view of the rough North Coast of the island.

The next stop will be at the Alto Vista Chapel, a chapel built by a Spanish missionary in 1750 on the site of the first Catholic church in Aruba. Enjoy some time for prayer or reflection with the Aruban countryside as your backdrop.
After the Alto Vista Chapel you will travel to the Baby Natural Bridge. The Baby Natural Bridge is a formation of coral limestone formed from years of pounding surf and is a smaller version of the larger Natural Bridge.

During the next stop you will get the chance to find some gold at the Bushiribana gold mine ruins. The Bushiribana smelter was built in
1872 by the Aruba Island Gold Mining Company to extract gold from the ore that was being mined in the nearby hills of Ceru Plat. It operated for ten years.

At the final stop you will visit the famous Ayo Monolithic Rock Formation where you can see some ancient Indian drawings left behind by the original inhabitants of Aruba.
Guests will drive their own Jeeps and there will be several chances to stop and switch drivers. Guests who want a private Jeep will need to purchase all 4 seats.