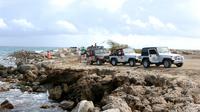 94 €
Aruba Full-Day 4x4 Jeep Safari Tour
Discover the real Aruba in this full-day off road adventure. Travel down dirt roads and rocky tracks while visiting Aruba's most beautiful sites. Be your own driver in a four-wheel-drive automatic Jeep. A day not to be missed!
Enjoy a unique off-road tour of highlighting Aruba's most famous sites in a four-wheel-drive automatic Jeep. The four-door Jeep will provide you with access to numerous locations that are not accessible by standard vehicles. If you have less than four people in your group, your guide will match you up with other guests.

You will follow your professional and friendly tour guide in their lead Jeep as they lead you on a comprehensive starting at the California Light House. The California Light House was named after the Californian, a ship famous for having received distress signals from the Titanic during it's 1912 sinking.

After the California Light House there will be a short stop at the Rock Garden, a garden of stacked rocks created by tourists over the years. This stop also gives a great view of the rough North Coast.

The next stop will be Alto Vista Chapel, built on the site of the first Catholic church in Aruba in 1750 by a Spanish missionary.

After the Alto Vista Chapel you will travel to the Baby Natural Bridge. The Baby Natural Bridge is a formation of coral limestone cut and molded by years of pounding surf.

The next stop will give you the chance to find some gold at the Bushiribana gold mine ruins. The Bushiribana smelter was built in 1872 by the Aruba Island Gold Mining Company to extract gold from the ore that was being mined in the nearby hills of Ceru Plat.

The next stop will be at the famous Ayo Monolithic Rock Formation where you can see some ancient Indian drawings left behind by the indigenous people of Aruba.

Afterwards, the group will head to a restaurant where a local BBQ lunch will be served.

After lunch, we will drive through the famous Frenchmen's Pass on the way to the famous Baby Beach for some swimming, tanning and snorkeling (snorkeling equipment can be rented at Baby Beach). Popular for its clear blue waters inside a calm bay, Baby Beach has been a long time favorite among visitors to the island.

At the end of the tour, you will be transported back to your hotel or port.

Guests drive their own jeeps and there will be several chances to stop and switch drivers. Guests wanting a private jeep will need to purchase all four seats.