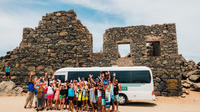 34 €
Aruba Countryside Tour
Come see the countrysides and historic places of Aruba. Your friendly tour guides will welcome you aboard with a friendly smile. See almost 70% of the island and several stops at tourist attractions and friendly and safe souvenirs shops. The guides will explain Aruba's fascinating history. Snacks, refreshments and round-trip transportation from your hotel are included.
Get to know the picturesque, rustic countryside of Aruba in a comfortable air-conditioned bus. The knowledgeable tour guide will welcome you aboard with a friendly smile and get ready to have some fun and unforgettable experiences. At the stops at the most popular attractions, passengers will have the opportunity get off the bus for 20 minutes at each stopping point in order to take pictures and purchase souvenirs.
Learn about Aruban culture and history during stops at Natural Bridge, Alto Vista Chapel, Casibari Rock Formation and the California Lighthouse.

The first stop will be at the famous California Lighthouse, which was named after the S.S. California - which sunk previous to its construction in 1910. Perched on a high seaside elevation, the lighthouse has become one of Aruba's scenic trademarks and offers a picture perfect view of the island's western coastline of sandy beaches, rocky coral shorelines and of the beautifully landscaped golf course, Tierra del Sol. 

The next stop will be at Alto Vista Chapel. Surrounded by the Aruban countryside, enjoy peace and contemplation at this chapel which was built on the site of the first Catholic Church built in Aruba in 1750 by a Spanish missionary.  Then, one of the famous stops will be at the Casibari Rock Formation. This rock formation is a unique cluster of huge rocks that rise up from the desert soil to create a unique visual setting. Some of the rocks weigh several tons and are shaped in peculiar forms. Roam the groomed walking trails and steps through the rocks and if you are up for a challenge, hike up to the top to see breathtaking views of the island.

The last stop will be at the Natural Bridge, a formation of coral limestone cut from years and years of pounding surf. It was once once of the largest natural coral limestone formations in the world, standing an impressive 23 feet above sea level and more than 100 feet wide until it collapsed in 2005. Guides will help you make fun memories of this beautiful island that will keep you returning year after year. Round-trip transportation from Aruba hotels or the cruise port is included.