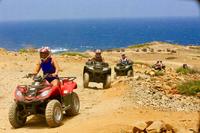 67 €
Aruba ATV Tour with Natural Pool Swim
Roar along the north coast of Aruba aboard a single or double ATV on this half-day tour. Kick up dirt as your all-terrain vehicle takes you through rugged back roads, the desert, seaside bluffs and beaches. Capture amazing photos while visiting Alto Vista Chapel, Baby Natural Bridge, a rock wish garden, gold mill ruins and eerie rock formations near Ayo village. Then take a refreshing dip in a natural pool of ocean water. Pickup and drop-off from most Aruba hotels are included.
Thrill lovers, discover the beauty of Aruba's northern coast on unconventional transport, the all-terrain vehicle (ATV). After hotel pickup you'll be provided with a safety briefing and outfitted with the equipment needed for your ATV adventure. All passengers will ride Honda Ranchers 420cc's.

Your 4-hour ride (round-trip) begins by following your guide up a winding road lined with white crosses. Arrive at beachside Alto Vista Chapel, bright yellow and meticulously maintained, built on the hilltop site of the island's first Catholic church constructed in 1750. While learning about the chapel's history, take out your camera and capture the chapel, sparkling Caribbean and flawless blue sky in one shot.

Head to the nearby wish garden, where you'll see hundreds of stone pyramids dotting a shoreline. Need a wish granted? Add to the field of dreams and build your own devotional tower.

Continue on to the partial-stone wall ruins of Bushiribana, and learn about the abandoned mill that smelt three million pounds of gold during Aruba's gold rush in the 19th century.

After another jaw-jarring drive, arrive at a natural pool of ocean water, referred to as 'conchi' or 'Cura di Tortuga,' once the home of sea turtles. If the tide is calm enough, jump into the basin surrounded by craggy outcrops and wash off your dust-covered body, while minding the waves of the Caribbean dancing just on the other side of the rocky barrier. Get a kick out of the colorful fish sharing the pool with you.

After a pleasant and leisurely swim in the natural pool, follow your guide back to where you started. Drop off the ATV and enjoy the return trip to your hotel.