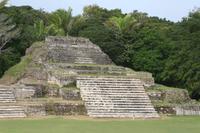 123 €
Altun-Ha Day Trip from San Ignacio
Tour the ancient Mayan city of Altun Ha, once an important center of trade and religious ceremony, where more than 500 ruins stand amid the jungle. Follow your guide on foot to the mysterious Temple of the Green Tomb in Plaza A and visit the Temple of the Masonry Altars in Plaza B. Here, archeologists found one of Belize's national treasures—the famous jade-carved head of Kinich Ahau, the Mayan sun god. Your day trip from San Ignacio includes round-trip hotel transport by comfortable coach.
Board your coach upon hotel pickup and head to the ancient Mayan city of Altun Ha, located an approximate 2.5-hour drive from San Ignacio. Maya for 'Rockstone Pond,' Altun Ha thrived as a trading post and ceremonial center in the Maya world during the Post-Classic and Classic periods ending in 900 AD.
When you arrive at the archeological site, which covers about 5 square miles (8 sq km), your guide will acquaint you with the prehistoric structures, totaling more than 500. Step back in time as you follow on foot and imagine what life was like for the 10,000 inhabitants who once resided in the area. You'll have the opportunity to explore Altun Ha's two main clusters, Plaza A and Plaza B, each with its own specific features.
Visit Plaza B and its Temple of the Masonry Altars, the ancient city's largest temple where a priceless piece of prehistory was found by archaeologists: a 5-inch (15-centimeter) high jade object sculpted into the head of the Maya sun god, Kinich Ahau. Learn about the large amounts of jade and obsidian excavated onsite, seen as evidence of commercial trade. At Plaza A, the larger of the two plazas, you'll find a mysterious tomb that was discovered beneath the Temple of the Green Tomb. Jade, jewelry, flints and skins are among the 300 remnants that were unearthed here.
Following your tour, enjoy lunch before boarding the coach back to San Ignacio with drop-off at your hotel.