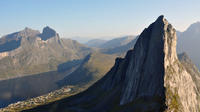 144 €
Alesund Shore Excursion: From Fjords to Trolls
A full day of amazing and breathtakingly beautiful sceneries is guaranteed. You will depart from Ålesund by bus and soon travel along the magnificent Storfjord. Enjoy the green fields in Valldal where the most delicious strawberries grow. Walk over the bridge at Gudbrandsjuvet, a beautiful gorge where the clearest water falls down 20-25 meters into a ravine. Experience the adventurous Troll Road (Trollstigen) and enjoy the amazing view over the valley of Istradal from the top. Last but definitely not least, a visit to the impressive Troll Wall (Trollveggen).
From the meeting point the bus will take you through the beautiful area outside Ålesund, to the land of the trolls. Throughout this excursion our guide will share many interesting facts and fascinating stories with you.

On the road to Sjøholt, you will pass the house of Ivar Åsen, founder of the Nynorsk language, the second language in Norway. This part of Møre og Romsdal is especially known for the furniture industry. From Sjøholt, the road along the Storfjord will lead you via Stordal and its Rose Church (built in 1789) to Valldal, famous for its delicious strawberries.

The next stop will be at the breathtakingly beautiful Gudbrandsjuvet, a 5 m narrow and 20-25 m deep ravine. You can walk over a bridge from one side of the ravine to the other. From here the bus will drive through the National ParkReinheimen, to the Trollstigen plateau. Enjoy the amazing view over the Troll Road (Trollstigen), the mountains the King, Queen and Bishop, as well as the waterfall Stigfossen. When driving down the Troll Road, the driver will safely drive the bus through 11 hairpin bends. At the bottom of the Troll Road, there will be an extra photo stop from where you will be able to take the best pictures of the Stigfossen.

Next up is a visit to the Troll Wall / Trollveggen, Europe's tallest vertical rock face, and the impressive Romsdalshorn. After this stop, it is time to head back to Ålesund.

Meeting point:

Storneskaia, Ålesund, 6003, Ålesund
Be at the meeting point 15 minutes before the scheduled departure time
Attention points:
Difficulty; level 1, easy, suited for everybody
We advise all our guests to wear appropriate shoes and clothing
Please Note: In order for our excursions to be available for everyone, the time of departure/arrival of each excursion is set to match the itineraries of the cruise ships. In case a time of departure needs to be adjusted, you will be notified in time. All meeting points are within walking distance from the port/pier and most of the hotels.