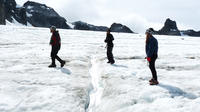 159 €
Albino's Eye Glacier Full-Day Trekking Tour from Ushuaia
We recommend this tour for nature lovers, as it takes you to the heart of the Nature Reserve and Landscape Tierra del Fuego, where the Emerald Lagoon and the Albino Eye Glacier are located. Albino's Eye Glacier Trekking from Ushuaia is a challenging hike of 20 km through landscapes of great beauty, being able to observe the local flora and fauna, and accessing to panoramic viewpoints, that allows you to contemplate the immensity and beauty of the reserve.
The tour starts with the passengers pick up from our selected hotels around 8:00am. We will travel by minibus about 20 km to the Tierra Mayor valley, where many excursions take place. There we will find the Nunatak refuge.
From the refuge we will start the trek, during which we will cross peat bogs, streams and ancient forests of Lengas and Coihues, typical vegetation of the region. If we're lucky, it is possible to see local wildlife such as foxes, condors and beavers.
We continue walking until we reach the Emerald Lagoon, located in the heart of the Nature Reserve and Landscape Tierra del Fuego. The color of its waters added to its geographical location, in the middle of the Fuegian Cordillera, invites us to stop to rest on its shores while appreciating the stunning scenery.
From this point we begin the ascent along the main tributary river of the lake, which has its source in the Eye of the Albino Glacier. The glacier will surprise us with a show of ice and mountains. We will put our crampons on to began the exploration of the glacier.
We will arrive to the scenic viewpoint of the valley where the Lunch Box is given, so that we can enjoy our lunch while we observe amazing views from 900 meters above the sea level. After lunch, we will continue the journey with stops at scenic spots of striking beauty.
Finally, we will return to the Nunatak refuge, by a different path from the one that we took at first, in order to continue exploring the reservation. From the refuge we get back in the minibus, which will return us to our hotels around at6:30pm, ending the tour