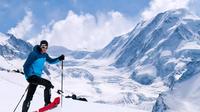 114 €
A two day excursion with snowshoes
We will spend a memorable winter adventure. With the oldest transportation - snowshoes you will delve into winter tale of the most beautiful Bulgarian mountains - Vitosha and Rila. We will climb Kamen Del – a great panoramic view of Sofia and the symbol of Bulgarian alpinism – Maliovitsa.
Itinerary:
Day 1.
We'll start the day with a short shuttle (30 min.) to Golden Bridges - the starting point of today's transition, where he will meet this unique device - snowshoes and techniques to move with them. After walking on well-shaped forest trail for about thirty minutes, we will reach the neat hut Momina Skala, built in a very picturesque place. After a short break we will keep on reaching our main goal - Kamen Del peak (1862 m asl). Path after the cabin becomes more steep, vegetation more dense and varied. Just when we start to feel tired, we will go out over the wooded belt, a vast plateau Vitoshko. Soon we will reach the peak Kamen Del - the highest point of today's transition. Our efforts will be rewarded with an unforgettable panoramic view. Like on a palm in front of us stretches the entire capital - distinguish the golden domes of Al. Nevsky, the old TV tower, NPC, and in the distance bleaching peaks of Stara Planina. We will continue walking towards Aleko hut in Vitosha spacious plateau, enjoying the view of the mountain leader - Black Peak. Our ultimate goal is Aleko hut, where we will be transported to the mountain resort Malyovitsa.
Overnight in 3 *** hotel.
Walking time: 3.30 hours
Day 2.
After a breakfast we will continue towards Maliovitsa hut. For about an hour the trail will take us through the picturesque valley Malyovishka. Short break and continue upward. Soon we will reach the first, then the second terrace where we will stop and enjoy the captivating views of the surrounding rocky peaks. From this point the trail will get steep but reaching crystal clear lake Elenino. Not long after we will be on Malyovitsa peak (2729 m asl) - the symbol of Bulgarian alpinism. The view is stunning. On a clear day we will see the Rila Monastery, the snowy peaks of Pirin circus of Urdini Lakes ... We will be going back on the same route to the mountain resort Malyovitsa, where we will be transported to the city center.
Walking time: 7:00
Accommodation and food:
Accommodation in a cozy three-star hotel rooms with private bathroom and toilet.
The price includes dinner (day 1) and one breakfast (Day 2)
Necessary equipment: backpack (40 liters); thermal underwear; hiking shoes with waterproof "breathable" membrane; "Fleece" water and wind resistant jacket and pants (possibly with "breathable" membrane, Gore-tex or equivalent); winter hat; gloves; sun-protective lotion (UV factor over 30); sunglasses (100% UV protection).
Snowshoes and poles will be provided by the organizer company.