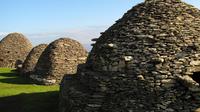 1 €
L'activité n'est pas disponible, essayez une autre recherche !
8-Day Kerry UnCorked Tour to the South West of Ireland from Dublin
Come and see Ireland through Irish eyes! This immersive adventure and cultural tour allows you to really get to know south western Ireland and its people. It's a region of Ireland that typifies the very best that the country has to offer in terms of scenery, adventure, history, living heritage and hospitality. So we wanted to spend even more time there.

Its an area we previously covered in 6 days, but we now explore in 8 days and these extra two days and nights make a massive difference and allow the tour to get under the skin of the communities and locations along the route.
Immerse yourself in some hands-on authentic local experiences:
Become a shepherd for a day for a fascinating and active look at rural life in Ireland today
Meet local artisan craftsmen and see how their skills are very much alive
Join or observe a training session at a local sporting club

Enjoy some fantastic activity options
Walking and hiking through some of Ireland's best scenery
Horse-riding on the Dingle Peninsula
Sea-kayaking and foraging for food in West Cork
Cycling in the Killarney National Park
Try your hand at surfing an Atlantic Wave
Take a boat trip to try spot Dingle's most Friendly occupant – Fungie the Dolphin in Dingle Bay
Learn the ancient art of "Vagaball'!

Revel at some of Europe's very best scenery, including:
Ireland's highest mountain range The Macgillycuddy Reeks
The green fields and stone walls of Dingle
Ireland's wild and rugged Atlantic coastline
The Caher Mountains of the Beara Peninsula
The hidden inlets and coves of West Cork
The green inland scenery of areas such as the Golden Vale in Tipperary

Enjoy some of Ireland's most popular and worthwhile tourist destinations:
Blarney Castle to kiss the magical Blarney Stone
Killarney National Park
Wonder at some of Ireland's historical treasures and experience the rich historical past of the region, from Stone Age man to the modern age.
Visit The Rock of Cashel
Optional trip to the Skellig Islands, one of Ireland's UNESCO World Heritage sites
Ancient Neolithic stone circles, Celtic ring forts, castles, monastic sites and built tombs

Take some free time to explore local communities and meet the Irish people in locations such as:
The galleries and pubs (about 54 in total!) in Dingle town (pop. about 2500)
Ireland's gourmet capital, Kinsale and its world class restaurants
The shops and boutiques of picturesque Kenmare

And at night:
Live music and excellent food in some of Ireland's best pubs and restaurants.
Spend two nights in the vibrant seaside town of Dingle in the 5 star guesthouse, Emlagh House and also two nights in Ireland's gourmet capital, Kinsale at the Blue Haven Hotel
One night in Luxury 'Glamping' safari style tents over looking the sea at Dromquinna Manor
One night living like a Lord or Lady in Bantry House stately home
A night in boutique guesthouse accommodation in the small, local community of Caherciveen on the Ring of Kerry