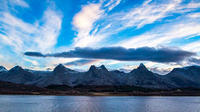 4 €
L'activité n'est pas disponible, essayez une autre recherche !
8 Day - Arctic Photo Adventure
We take time to stop and explore this beautiful places and meet the locals, in the company of expert photographers who have an intimate knowledge of the region. This specially crafted expedition will put you in position to take photos with some of the premier photographers as your guides.

Experience the remarkable beauty of northern Norway on this unique expedition into a land of deep fjords, icy glaciers, and islands so beautiful that you only dream about. We will stay at wonderful places driving along the Atlantic Ocean road, have the chance to stay in fishing villages on the amazing Lofoten Islands, search for orcas and humpback whales and hike on one of Norway's biggest Glaciers.
Tour Itineary

Day 1 - Beautifully located Tromso is a small, but vibrant town located on the western coast, surrounded by stunning Arctic scenery with Alpine mountain peaks & islands. Tromso is Europe's northernmost University town.

Day 2 - Senja has a size of approximately 1586 square kilometers and is Norway's second largest island after Hinnøya. Senja is often called "adventure island" or "Norway in miniature", and you will find most of nature that exist in Norway.

Day 3 - The history of Nyksund has been written a lot and it is still going on. Nyksund was in its last flowering time one of the significant fishing villages of the Vesterålen. Especially the eccentric architecture and the special inventions still show the wealth and the ingenuity of the old citizens.

Day 4 -5 - The amazingly narrow Trollfjord is a 2 km long sidearm of the Raftsund between Lofoten islands and Vesteralen archipelago. With its narrow entrance and steep mountain sides, the Trollfjord is really exotic and spectacular. The narrow mouth of the Trollfjord is only 100 meters wide, and widens to a maximum width of 800 meters. The steep mountains surrounding the fjord are between 600 and 1100 metres high.

The waters around Lofoten are highly productive, attracting a great diversity of both baleen and toothed whales! The most common sightings in Summer are the sperm whales, who stay here whole year-round. The sight of a sperm whale is really an overwhelming experience. It is the largest toothed whale in the world, growing up to 20.5m and 57 tons! Get your camera ready to take outstanding shots of the sperm whale fluke before they dive

Day 6 - Nusfjord is one of the oldest and best-preserved fishing villages with long Lofoten fishery traditions.

Day 7 - Lofoten is something of a living museum – a preserved fishing village with a shoreline of red rorbuer, cod-drying racks and picture-postcard scenes at almost every turn. It's an almost feudal place, carved up between two families, now living very much from tourism but in its time a significant fishing port (more than 700,000 cod would be hung out to dry here right up to WWII).

Day 8 - Saltstraumen has the strongest tidal current in the world. Saltstraumen has existed for about two to three thousand years. Before that, the area was different due to post-glacial rebound.

The Svartisen glacier is the second largest in Norway covering 375 km2. Svartisen is at the latitude of the Arctic Circle. The West Svartisen ice cap has an area of about 220 km2, whilst the East Svartisen ice cap covers about 147 km2.