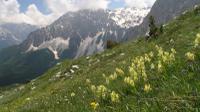 485 €
L'activité n'est pas disponible, essayez une autre recherche !
8-Day Albanian Alps Adventure
Albanian Alps, one of the most attractive and fascinating territories of the Albanian lands, with natural beauty and stunning views. This 8-day tour is one of Albania's must-do-journeys.
Day 1: Airport –Shkodran (83 Km,1.5 hours driving time).
Arrival at "Mother Teresa" aiport. Dinner will be at the hotel. Overnight in Shkodra.

Day 2: Shkodra-Bajram Curri–Tropoja and vjeter (164 Km, 4 hours driving time)
After breakfast we will drive towards Bajram Curri,embarking the ferry line Koman-Fierze.The journey will take about 2 hours.Before we enter the city, we will make a short visit in the house of Mic Sokoli now transformed into a museum. Lunch is organized in the city of Bajram Curri,afterwards we continue to Tropoja e Vjeter,enjoy dinner in the village lodges. Overnight:Tropoja e Vjeter.

Day 3: Tropoje e vjeter-Sylbice.
After a good breakfast, prepare the equipments for trekking, and begin our journey walking along the river of Tropoja. It will take about 6 hours, and in the end we arrive in the Alpine Pasture called Sylbice. Accommodation will be in the alpine huts, afterwards we will have a well deserved traditional dinner. Overnight: Sylbice. Approximate walking time: 6 hours

Day 4: Sylbice – Doberdol- Mullafc.
Today breakfast in Sylbice. Meet with the local guide and once the horses are loaded, we begin our hike, through the forest and panoramic destinations such as the mountains of Mullafcit. We pass through the lakes of Doberdol, mountains of Koshutica,Terkuzi and Lugu i Vocit. In Mullafc we accommodate in Mustafaj's alpine huts, 4-5 persons in each hut. Overnight: Mullafc. Approximate walking time: 4-6 hours

Day 5: Mullfaci –Valbone
After breakfast, we start our descent through the village of Markofce, explore the area and in the afternoon we reach the village of Cerem. We then proceed to "Fushe e Gjese" tourist center near the village of Valbone, where we will stay for the night, have a traditional dinner and experience the unforgettable hospitality of the village. Overnight: Valbone, walking time: 3-5 hours.

Day 06: Valbona - Theth
After breakfast,we will start our hiking from Valbona to Theth (packed lunch on the way). On the way you will experience the most magnificent mountain landscapes in the Albanian Alps.Overnight it will be in one of the local guesthouses in Theth. Dinner is served at the guesthouses. Overnight: Theth. Approximate walking time:7-9 hours

Day 07: Theth – Tirana (168 Km, 3.5 hours driving time).
After breakfast we leave Theth and drive towards Shkodra. Here we will have a short break for lunch and then proceed to the capital of Albania, Tirana. We will have a sightseeing tour.

Day 08: Tirana-Airport (18Km, 30 min driving time)
After breakfast in the hotel, meet the group at hotel lobby, and transfer to "Mother Teresa" Airport.