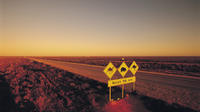 5 €
L'activité n'est pas disponible, essayez une autre recherche !
8-Day Adelaide to Perth Ultimate Wildlife Experience Including The Indian Pacific Shark Cage Dive and Swim with Sealions
On the 8-day experience, you experience up close and first-hand 'the Real Australia' – its outback and coast, the pristine landscapes and abundant wildlife. Add the natural, expansive and untouched beauty of the Eyre Peninsula, South Western coastline and Nullarbor to your travel list!
Day 1
This all inclusive tour starts in Adelaide. Your local guide for the tour will share information and knowledge on this unique and pristine region of the Flinders Ranges and the Eyre Peninsula. First stop is in Port Augusta, board Port Augusta Gulf Cruises to learn about the Spencer Gulf – a unique biosphere. Then into the Flinders Ranges for a sunset camel trek with the Pichi Richi Camel Tours before overnight at Rawnsley Park in their Eco Villas.

Day 2
Today, you have a full day to explore the Flinders Ranges- its beauty and its wildlife. Visit the Prairie Hotel for their specialty "Road Kill" meal. Enjoy an overnight stay at Mount Ive with a sunset on Lake Gairdner.
Day 3
Travel down the coast to board the Electric Boat Tesla Marina cruise where you will learn about the different seafood industries on the Eyre Peninsula, followed by a tantalizing meal of the local seafood harvest. After lunch, explore the Marina on a walking tour. Overnight at the Port Lincoln Hotel.

Day 4
Today is Great White Shark Day – a full day aboard the Calypso Star for an up close and personal encounter with Great White Sharks. Travel to Coffin bay and board the Coffin Bay Explorer to learn about the Oyster Industry on the Eyre Peninsula. Similar to the west coast of the Eyre Peninsula- the overnight stop is at Coodlie Park Farm Retreat, a camp fire feast. This evening, you have the opportunity to participate and get involved with a nocturnal wildlife tour which provides the opportunity to see kangaroos, wombats, emus, Bilbys and betongs!
Day 5

Up early next morning for an inspiring coastal walk to see dolphins swimming in the waves. Visit Murphys Haystacks before boarding the MV Investigator for a cruise to swim with sealions and dolphins. This experience rates as one of the best interaction opportunities with wildlife in Australia. After lunch at Streaky Bay, spend time at a signature stop, Perlubie Beach. As you take in this inspiring and pristine landscape, sample fresh oysters and local wines before overnight in Ceduna.
Day 6
Begin the day with a visit at the Aboriginal Culture centre, followed by Davenport Creek, Head of Bight to see Southern Right Whales during season then either accommodation at Nullarbor or a swag experience in the middle of the Nullarbor Plain - a true Aussie experience.
Day 7
Next morning, onto Cook Railway Station to board Great Southern Rails Indian Pacific – for Gold Kangaroo travel through to Perth. This provides you with a time to reflect on how truly amazing this great country Australia really is- it's landscapes, its natural beauty and its abundant wildlife, an escape that leaves you breathless, fascinated and inspired!
Day 8
Arrive in Perth.