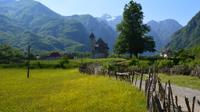 750 €
L'activité n'est pas disponible, essayez une autre recherche !
7 Day Cultural discovery and Walking Tour in North Albania and Kosovo
This tour gives you the possibility to know new people, discover new cultures, have new experiences and enjoy the untouched natural beauty of the Albanian Alps.
Day 1: Tirana, the vibrant capital. Transfer to Tirana after the guided tour of the city journey towards Petrelë. It is a village 15 km south of Tirana located on a hill 500m above sea level, popular thanks to its castle. The fort of Persqop, which belongs to the Illyrian era, is also in Petrelë. Dinner at a traditional restaurant in the castle of Petrelë.

Day 2: Shkodra and Thethi - the oldest village in the Albanian Alps. Transfer to Shkodra. After the guided visit of the city with its main attractions and lunch in a traditional restaurant, we continue our trip to Theth. The accommodation provided is in a simple but clean guest house with shared rooms.

Day 3: Theth and its surroundings. Walk through the village and visit the church and the Isolation Tower. Then hike towards the gorge and waterfall of Grunas, and from there to the "Blue Eye of Kapreja", a natural pool with amazing blue water. We follow the same path to return to Thethi. Transfer to Shkodra, and have dinner and accommodation there. (Easy, Walking time 5 hours, Ascent/Descent 480 m)

Day 4: The wild-romantic Valbona Valley. Transfer to Koman, where we will take the ferry and travel along Koman artificial lake up to Fierza. From there the trip continues by car up to Valbona village. After lunch hike towards a very beautiful meadow called "Bregu i Rrethit". There will be a short break for photos before a descent to the guesthouse. (Easy, Walking time 5 hours, Ascent/Descent 650 m)

Day 5: Rrugova Mountains in Kosovo. After breakfast drive towards Kosovo and then along the spectacular Rugova Gorge. The hike of the day begins in the vicinity of the village Drelaj and continues up to the place called Liqenat in Kuçista. Dinner and accommodation will be in a guest house in Kuçistë. (Easy, Walking time 5 hours, Ascent/Descent 825/900 m)

Day 6: Cultural discovery tour in Kosovo. Transfer to Deçani to visit the Decani monastery, an UNESCO World Heritage. From there we will be driven to Prizren, the multicultural historic city where a guided visit is planned. Lunch will happen in a traditional restaurant in Prizren. Dinner and accommodations will be in a beautiful hotel just in the middle of the Sharri Mountains.

Day 7: Tirana and Dajti Mountain. Transfer to Tirana. After lunch the cable car ride to Dajti mountain is planned. From its terminal at 1050m, there's a magnificent view over Tirana, Durrës and the whole central-western Albania up to the Adriatic sea. After dinner, return in Tirana.

Day 8: Transfer to the airport.